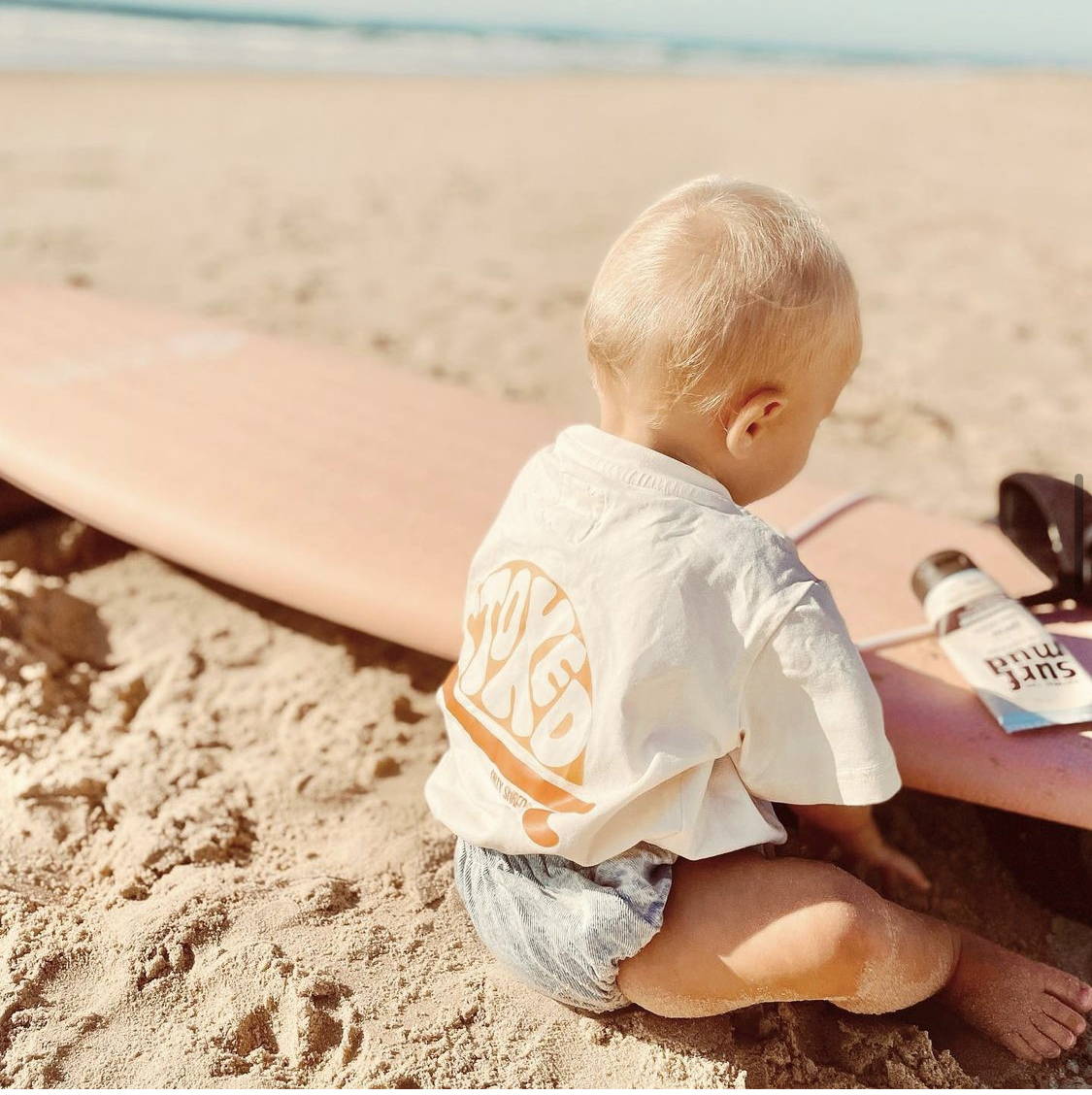 Beach mama's raise beach babies. So what's the deal with baby sunscreen?
Watching your baby grom stomp in the sand and splash in the salt is the best thing in the world, but you've got to approach sun protection with some seriously diligent care during the infant-toddler stage.
Considering Australia has one of the highest rates of skin cancer and that we, as humans, are the most sensitive to the sun and severe burns as infants, it's your job as beach mums and dads to implement protective strategies right out of the womb!
See, it's all about accumulation. The less UV damage that accumulates in a young life, the healthier the skin and the less chance your bub will have skin cancer later down the road.
I have three toe-headed little groms who spend more time in the sun than they do under a ceiling (well, not always- it's been a rainy mess here these days), and I'd like to think I know a thing or two about sunscreen for babies.
But It's not as straightforward and simple as you think…
Baby sunscreen is sunscreen made for sensitive baby skin, usually created directly from minerals, like zinc, versus the classic chemical concoctions they sell to us adults. So really, sunscreen for babies is just chemical-free, simple ingredient sunscreen that doesn't absorb into the skin, therefore offering the most protection and the least irritation/chance of a rash.
This sunscreen appears white and thick when placed on the skin, blocking/reflecting the UV rays, deeming the name 'reflective sunscreen'.
'Chemical sunscreen' aims to absorb the UV rays before entering the skin, using harsh, dangerous chemicals. It sprays on clear and is made from synthetic chemicals. AKA, avoid this nasty stuff at all cost.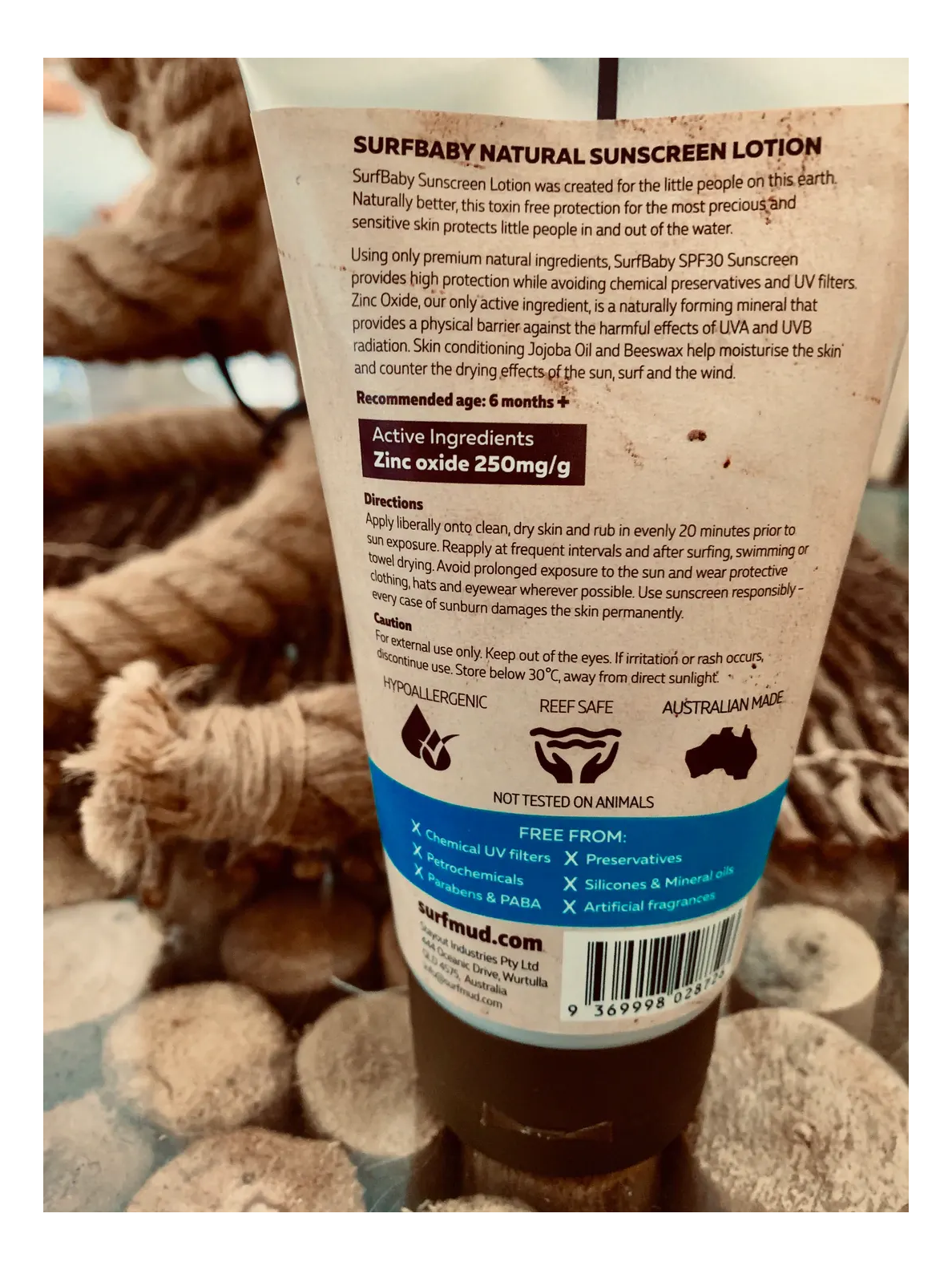 When I hear the term 'baby sunscreen,' however, I don't just visualize sunscreen in its classic liquidy, white form. I also think of rash guards, hats, sunglasses, and shady spots to hide away from the warm rays. These versions of sun protection are labeled as 'physical sunscreen'.
These physical methods of sun protection aren't just more powerful, but they're highly suggested over literal sunscreen during your little ripper's first year of life.
When Can Babies Wear Sunscreen?

The Australasian College of Dermatologists recommends avoiding sun exposure and sunscreen on toddlers under six months.
This doesn't mean your baby can't go outside or that they can't use sunscreen at all; it just means that their skin absorbs the most chemicals and is the most sensitive to damage during early childhood, so aim to utilize physical forms of sun protection versus sunscreen.
To summarize:
Reduce sun exposure by opting for variations of a physical sunscreen.

Only use small amounts of natural sunscreen on still-exposed skin.
Let's get into both with a bit more detail:
Reduce Sun Exposure & Physical Baby Sunscreen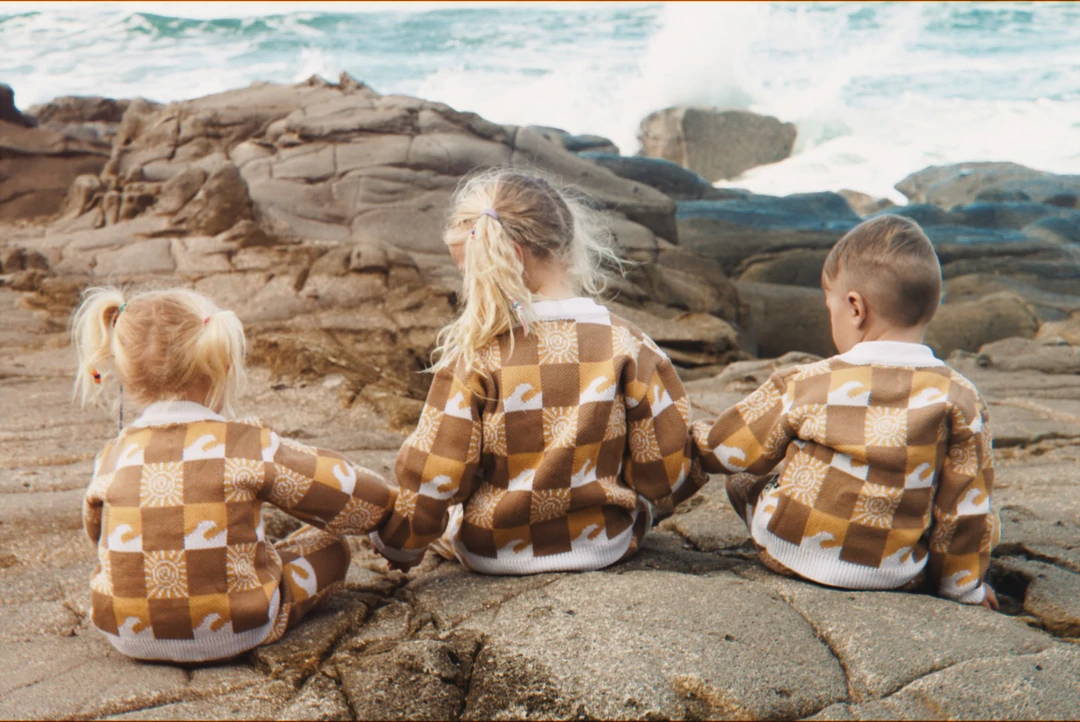 During your little grom's first 6 months of life, you want to do everything you can to avoid sun exposure while using as little sunscreen as possible, specifically when the UV index is 3 and above.
Avoiding sun exposure, though, is not a synonym for staying inside!!
Your baby needs fresh air and to walk around barefoot as they connect themselves to the natural world. I mean, we had ours on surfboards as soon as they could walk, and this meant being in the sun!
Avoiding sun exposure isn't hiding from the sun- it's simply opting for physical sunscreen whenever possible and being mindful of the sun's potency during various times/seasons. Here's some things to bring to the beach to take care of sun protection every time, no issues:
1. Loose Fitted Clothing & Rash Guards
Loose-fitted, comfortable baby clothes are a keystone element in protecting your child from the sun. Instead of layering their arms & legs with sunscreen, choose loose-fitted long sleeves and pants as physical baby sunscreen.
Think breathable linen clothing or rompers & bodysuits that cover a majority of their skin while still keeping them cool.
Rash guards offer better SPF than most sunscreens, so if you plan on swimming in the pool or jumping in the ocean, these are an essential part of any baby sunscreen checklist.
Plus, surf rash is a very real thing, and I can promise you don't want your groms complaining of their red, blistered bellies on the way home in addition to a sunburn, so rashguards rule.
Sun protection will never be limited to only the skin, as the eyes require the same delicate care in preventing any long-term damage from the sun. This is especially true for little surfer babies, as they will spend much of their lives sitting in the ocean and staring at the sun while they wait for a set to pass through!
Just as sunscreen is categorized with various SPF ratings, sunnies are categorized with a numerical system (1, 2, 3, & 4). The higher the rating, the better the UV protection, so always aim for at least 2 and above!
Keep the sunnies on their tiny heads for as long as you can, and I always toss on a floaty strap so they don't get lost on a trail or at the beach!
Okay, I freakin' love tiny sun hats. They're as cute as it gets, yet totally functional in purpose.
Your baby's scalp is incredibly sensitive to sunburn and UV damage, so wearing a hat when engaging in outside activities is critical. At Salty Shreds, we've curated quite the killer collection of caps for your grom's noggin'. Check out our line of headware for everyone in the fam; matching, stylish caps fitted for the babies, groms, and the mums and dads who chase after them.
Do note that any hat is always better than no hat, but the wider the cap, the better the protection. Aim to not only protect their scalp, but also their face, eyes, and neck with this wearable form of physcial sunscreen.
4. Shade, Shade, and More Shade

Shade is a literal manifestation of the Earth saying, "there's not as much sun right here!". The shadier the spot, the less UV. Find areas of natural shade and use them as forms of physical baby sunscreen, or create your own shade with umbrellas and portable shade shields!
When taking your baby outside and in the sun, don't overdo it! You can always avoid a sunburn, but you can never take one back! Be mindful of their exposure and limit yourself to shorter time frames spent outside.
The UV index is the highest during the 10:00 am-2:00 pm time window, so try to plan your outside endeavors for the early morning and later arvos.
Luckily, that's also when the waves tend to be best!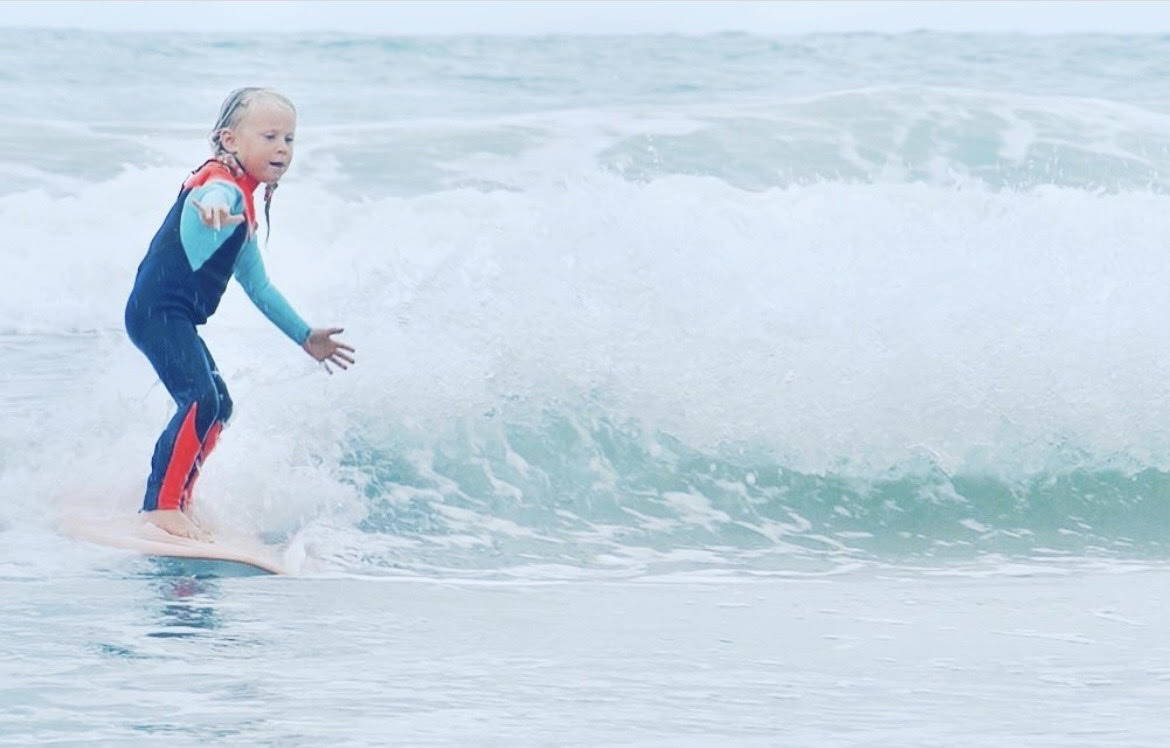 Bryxton shredding and staying protected from the sun.
If the UV index is greater than 3, you need to practice extra caution, as I said above. And with Australia flaunting one of the highest UV indexes of all countries, year-round, we need to be just that much more careful with our skin and, of course, our children's skin.
Keep up with the UV index in Australia by downloading apps such as the free SunSmart app to track these levels and plan your outdoor adventures accordingly!
Carefully Apply the Sunscreen

Babies can wear baby sunscreen, but with careful moderation and application.
To ensure that your baby will not react to the sunscreen, perform a spot test before use. Apply a very slight amount of sunscreen to a single area of your child's skin to ensure there are no reactions to your particular product.
2. Only Apply to Exposed Areas
There is no need to lather a baby's arms and legs with sunscreen if they are wearing the proper physical sunscreen. With increased absorption rates in their skin, the goal is to keep actual sunscreen off of them for as long, or in as little quantity, as possible!
Only apply sunscreen to the exposed areas that need it, such as their hands and feet, and do so in smaller quantities with consistency.
Again, always choose chemical free, hypoallergeic mineral sunscreen for your grom's sensitive skin.
Apply sunscreen to exposed areas up to twenty minutes before your activity, specifically if there is water involved, and make sure to reapply every couple of hours.
4. Sunscreen in All Seasons

Snow or sand, clouds or blue- always, always protect your child from the UV rays, despite the particular deception weather might tell you about the sun.
Best Baby Sunscreen Australia

My groms are always outside, and I wouldn't change that for the world. But I am well aware of the dangers of the sun and want to do everything I can to protect them from these negative implications. But more than that, I want to teach them sun-safe habits that they can take with them for the rest of their lives, ensuring that this is a long-term ordeal!
As surfers who spend more time in the sun than not, sun protection is especially vital, and I always ensure that every aspect of sun protection is taken care of, from head to toe (literally!).
That's why you'll find the best baby sunscreen in Australia and the best-looking kids clothes for sun protection on Salty Shreds, as we not only practice what we preach; but we want to instill the same positive, health-centered life approaches to all the salty mum's, dads, and growing bubs of the world!
---
Hello to all my salty people! Thanks for readin' my blog and for the continuous support towards our brand. Make sure to sign up to our newsletter by creating your account to stay in the loop with new releases, sales & giveaways, and all our future blog post!
Live rad, stay salty.
- Ash, Dev & The Salty Shreds Fam.