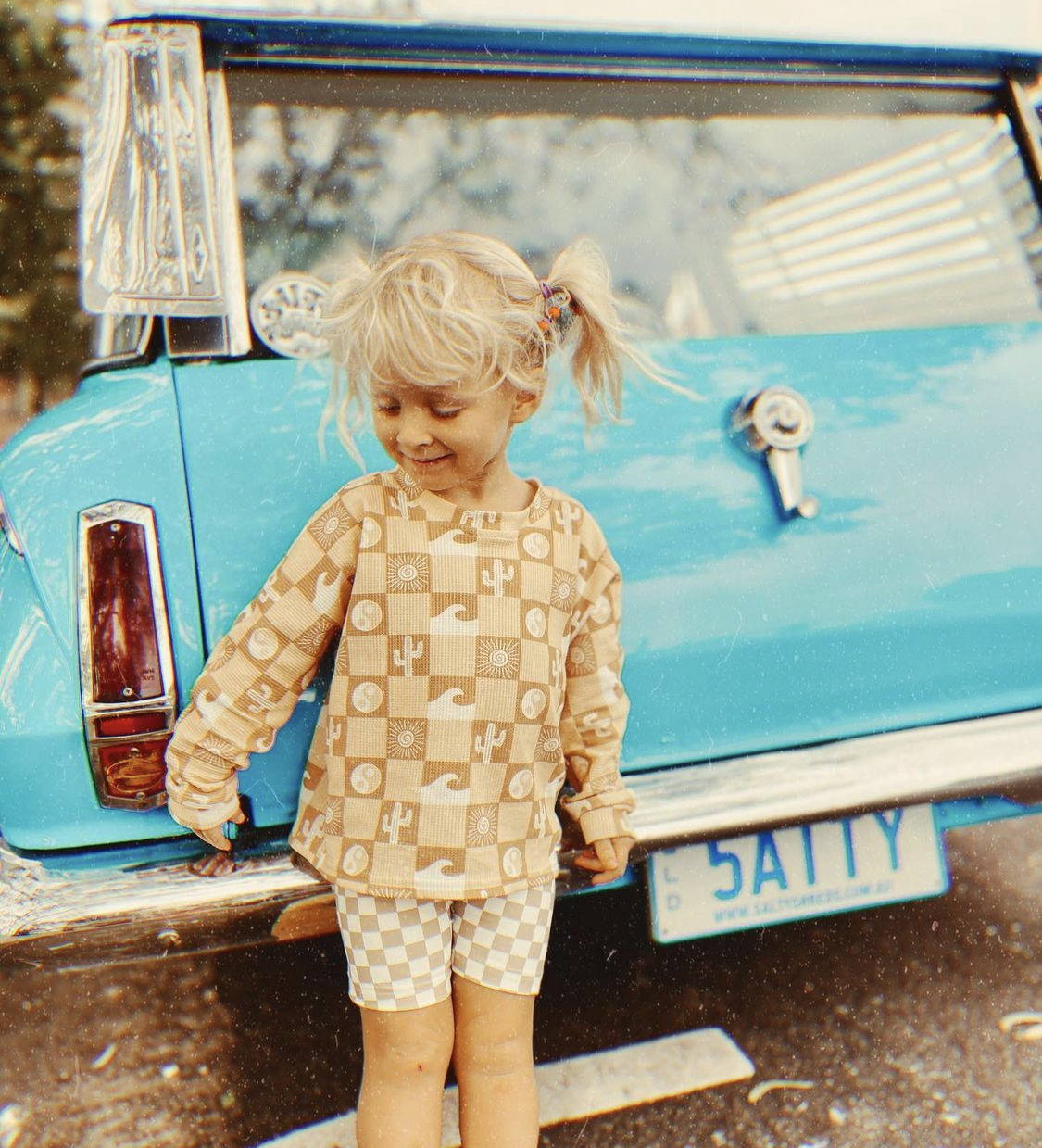 Screens don't vibe well with our family, even on road trips. Yes, I am fully aware that I could toss an Ipad to the back seat to entrance my grom's eyes with digital entertainment for hours. But by doing so, I am distracting them from so much growth, knowledge, and control over emotions/virtues such as patience and contentment in the present.
Screenless car activities for kids that actually encapsulate their attention and provide road trip entertainment aren't the easiest to come up with, and for the big road trips, you're going to need a solid list of things to do in the car to keep those wild-minds and energized bodies content.
Here are a few of my go-to's, a couple of my approaches to cultivating this screenless kid's car entertainment; proven assets in our surf and travel adventures.
The Best Screenless Kids Car Entertainment

A touch of creativity, and you're on your way to a road trip synonymous with success and free of the dreaded "are we there, yet?!".
The Travel I-Spy Challenge

Standard I-spy is always engaging, but considering we're cruising 60km down the highway, there's not much time to play this game together. Taking the general concept of I-spy, I like to create a travel challenge checklist for my groms before we depart.
On this checklist, I'll list random road-trip sightings for them to hunt through the window. I'll include a few commonalities they are all but guaranteed to spot, such as:
A Yield Sign

A Dog Poking Its Head out of a Window

A Truck Pulling a Boat

A Large Body of Water

The Australian Flag
And then, I'll throw on some 'rare-finds', a list of rather random sightings they may or may not see. These always have them itching with excitement, eyes glued to windows as they soak up the sight of changing landscapes and life, bubbling with anticipation to fulfill their travel challenge quest. For a few ideas, try:
A Car with Surfboards on the Roof

A Bright Green Car

A Windmill

A Motorcyclist with a Beard and Leather Jacket

A Tunnel

A Roadside Fruit Stand
To top off this insanely effective form of kid's car entertainment, I add point values to each item and associated rewards for various scores, like an icy pole or a 'get out of chore free' card. Seriously, this road game keeps them hooked for hours.
You'll notice that my screenless car activities for kids often involve some type of challenge and reward. I find that setting rewards hugely enhances engagement, and my kids love a bit of competition, so this really improves the efficacy of these activities.
Stay cozy all road trip long with our killer surf threads for utmost travel success.
For this one, my groms write down everything they see that starts with each letter of the alphabet. I'll assign points for each letter based on difficulty, with vowels scoring the least and "Z" & "Q" & "V" the highest. At the end of the road trip, they can add up their score.
So If "A" scores a one and "Z" a five, and they spot a:
Then they total 7 for the game. Once again, I like to set rewards for varying point thresholds, and they can play the game to their heart's (and mind's!) liking.
I love the mental challenge this game presents, their little minds racing to associate physical items with their names and, therefore, the letter they start.
It engages their eyes in the physical world as their mind undergoes an experience of vocabulary development. They really have to dig into their evolving depths of knowledge once they have already listed the most common sightings, thinking hard about new sights to add to their collection.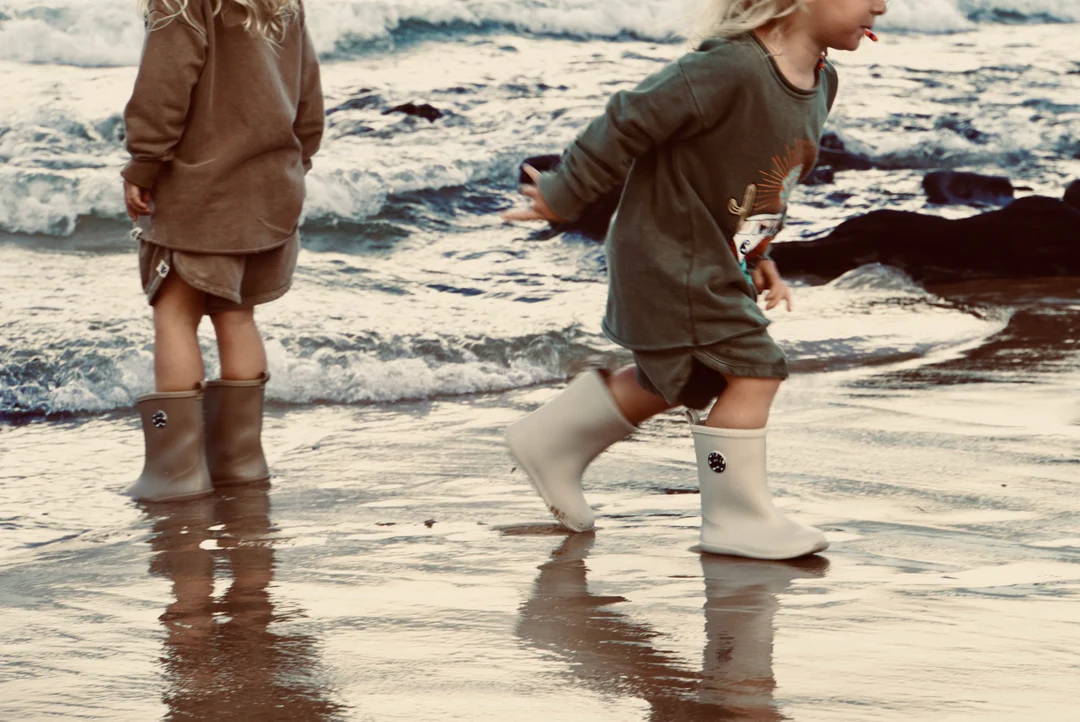 Splashing in their new Puddle Stompers, taking a break from the car to move the legs.
Who said car activities for kids have to take place inside the car? You're on a road trip, so make the best of it!
We always like to give ourselves extra time to incorporate a few longer, exciting stops along the way. Everyone needs a break from the car, especially kids, and you'll appreciate burning their energy out once they've zonked in the back.
My advice? Make it active, if you can. For us, this usually means locating a skatepark somewhere at the halfway point of our daily travel and hitting it for just an hour or two before getting back on the road.
You might do the same, or you can also stop by the park or beach and have your babies walk around barefoot for a quick grounding session, throw the frisbee, go on a little one-mile hike, and really, just stretch your legs!
One good activity to break up the travel time goes a heck of a long way, so do it.
4. Audio Books/Podcasts To Keep it Mellow.

Audiobooks are one of the more mellow, relaxing things to do in the car, providing effortless entertainment for your kid. Yes, keeping their minds engaged with games and hands-on car activities is fantastic, but road trips can be long, and you'll need to balance engagement with simple relaxation.
How do you avoid boredom in the car, and how do you do this in a way that doesn't require effort on their end or a screen?! For us, I like to toss on an audiobook or a podcast for kids.
My groms tend to lay back as their eyes drift outside the windows, and after a while (if we're lucky), they'll even close them, lulled away by stories echoing softly from the speakers. Here's a lovely list of some of the best Australian kid's podcasts, but if you're raising a surf kid like me, they might also prefer lifestyle-related podcasts.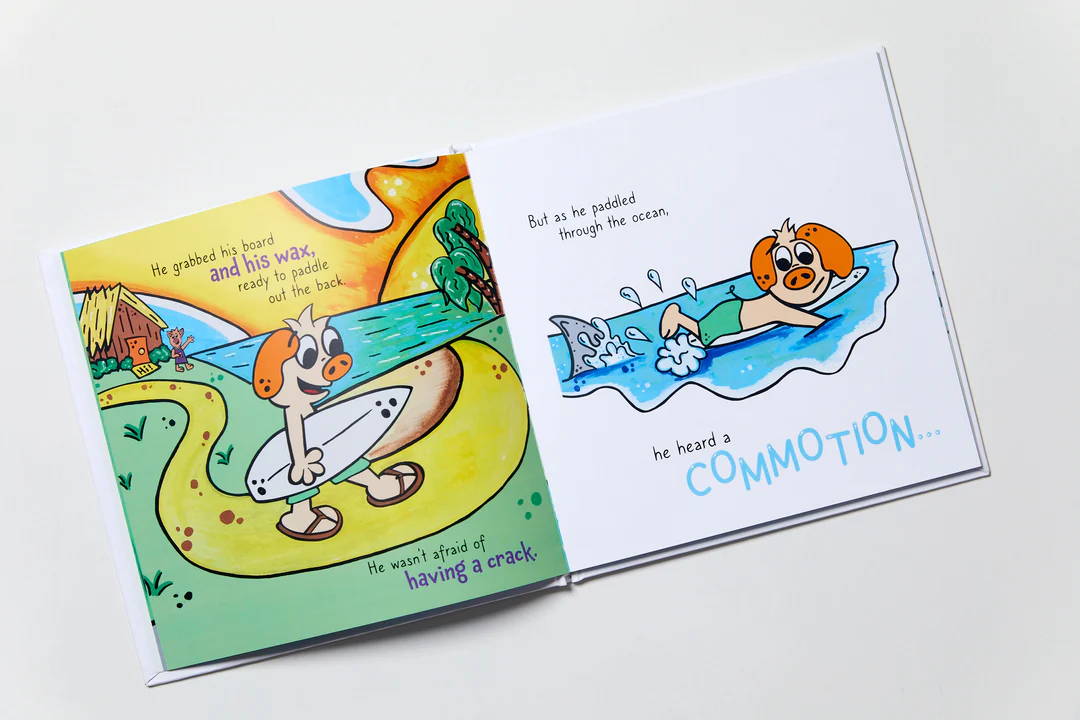 I want to toss this one in after audiobooks/podcasts, as books are a keystone to any road trip. And yes, I love it when my kids read. However, I have a lot of success with audiobooks over books during road trips for a few reasons.
First off, books can lead to road sickness when on those windy backroads. And second, sometimes kids just don't want to read!
Absolutely give them the option of jumping into a book, but also allow them a reprise from mental work by playing a story for their ears to absorb, and not their eyes.
I also like image/photography heavy books, as these provide equal entertainment with less reading and required focus.
I have my groms keep travel journals, simultaneously curating a handful of car activities for kids while catering to creativity and artistic expression via writing, drawing, and reflection. In this journal, I leave it up to them how they wish to approach filling the pages, but help them forward by giving them ideas.
When we stop at a roadside attraction, I remind them to take a moment to reflect on what they saw and how it made them feel. This might result in a small, scribbled summary with cute misspellings of their experience or sometimes a drawing derived from their memory.
When driving, I'll persuade them to write down a few things they want to do during our trip or to record sights they have never seen before, or I'll try to promote a touch of creative writing and drawing.
For a bit more flair in kids journaling, you can press flowers from various locations or glue pictures within the pages to accompany their travel journaling.
When we're home from the trip, I like to have them do a reflection entry. This forces my groms to think back on the experience, allowing them to appreciate the moments spent and memories created, helping them to see value in experience, travel, and world knowledge.
7. Keep 'Em Happy, Keep' Em Full

Want some kid's car entertainment that will score you at least half an hour of total silence, aside from satisfying grunts and the occasional burp? Build out an arsenal of healthy road trip snacks and keep 'em on the ready!
Hunger is a road trip's greatest enemy. Not only does hunger promote complaints, but stopping for snacks/lunch can eat up some serious time and money along the way.
Snacks are ideal for road trips as they really help you extend the timeframe between meals; consistent snacking is the better way to keep your groms feeling full for longer versus big meals.
And every time they ask for a snack, you're literally handing something to do (aka, eating!) for a few minutes of munching. Do that several times throughout the day, and you've bought yourself a solid hour of complaintless-chilling.
Hands-on puzzles are one of those car activities for kids that I can just pass to the backseat and go, "here, figure it out!". And chances are, they won't figure it out anyway, so these will grant ya plenty of occupied time. These hands-on puzzles create a sensory experience and a challenge that enhances hand-eye coordination; for that, they're one of the best things to do in the car.
Something simple like a Rubix cube is works, but I love wooden puzzles and other colorful brain puzzles for mental stimulation. I can almost guarantee you'll mess around with them in the passenger seat to kill some time, too!
---
Hello to all my salty people! Thanks for readin' my blog and for the continuous support towards our brand. Make sure to sign up to our newsletter by creating your account to stay in the loop with new releases, sales & giveaways, and all our future blog post!
Live rad, stay salty.
- Ash, Dev & The Salty Shreds Fam.