Adventure dates with your loved one and a reprise from your crazy kids? Yeah, now that's what I'm talking about!
Dinner and a movie? Not bad, but a little cliche and on the mellow side. So what about the parents that crave a little adrenaline, a touch of adventure in the small windows of personal time granted through the occasional grandparent takeover or playdate?
I hear you, my radical people. Here are a few adventurous date ideas for those who like to do things a bit differently, for the couples who thrive in experiential connection through the curation of memories synonymous with excitement. Shall I go as far to say date night Salty Shreds style?!
Adventurous Dates? Hear Me Out!

Maintaining and contributing to a romantic relationship with our partner doesn't just happen. It takes work, but not in a bad way. Creating enough time to share between our groms, ourselves, and our loved one is no easy task, and that's why I love adventurous dates.
For me, going on some form of adventure is a way to spend time with myself. It helps to ensure I'm doing things in life that contribute to personal growth while simultaneously creating an experience with my person that we can use to facilitate connections between us.
Yes, we also need romantic manifestations of this same ideology, so don't forget the deep talks with wine by the fire or candle-lit escapades. But experiential intimacy is important, as is the ability to intertwine personal growth within these very experiences, and that's where adventurous date ideas shine.
Besides, they keep us young and smiling, and who doesn't crave a bloody good time to shake off the mundane?!
There's an adventure out there for everyone. Use these adventurous date ideas as inspiration, and add your own touches of creativity when and where needed to customize them to your relationship. We're all different people who live in different places with different abilities, so never forget the limitless nature of the exciting things you can do with your partner.
Wine Tasting with a Twist

Forget the vineyards. I said adventurous, didn't I?
For this date idea, pack up a selection of various wines and decide on an out-of-the-ordinary location to greet the silky liquid with your lips. And try to make it adventurous!
For us, this might look like a mellow hike to the summit of a mountaintop, a big open field, or a walk through winding woods until the path clears to a secluded coastline.
But if you live in the city and want to skip a drive, there's still room for creativity, like a rooftop or an overlook to watch the twinkling lights below.
You might choose to bring a few bottles with you, but for easier transportation, I will typically pour small bits of each into separate flexible wine carriers, labeling them with tape.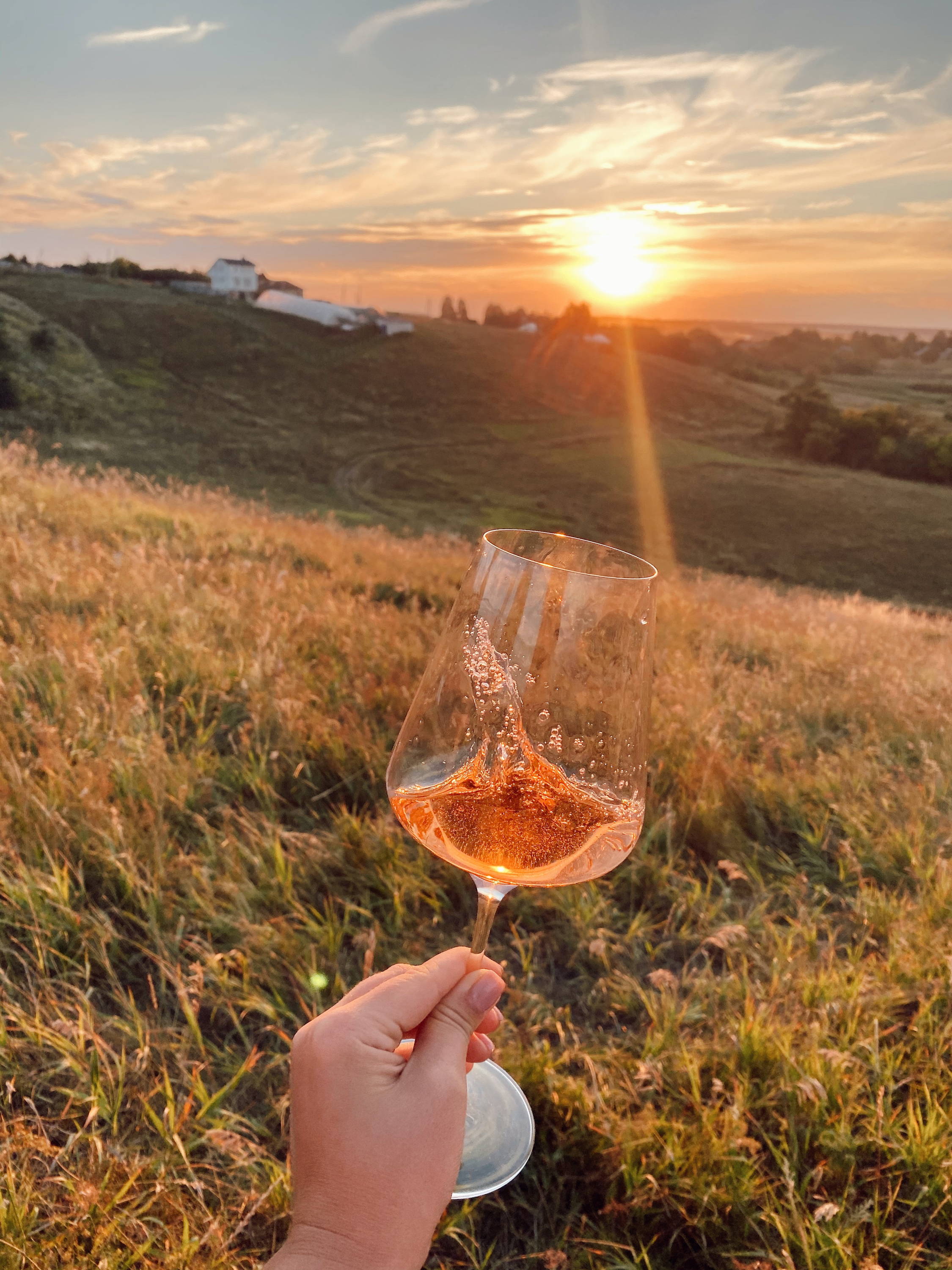 If you want to take the wine tasting portion of this adventure date seriously, keep a journal with small descriptions of each wine and your personal ratings. Don't forget to scribble a brief summary of your accompanying adventure for memory's sake!
A Surf Session in the Sea

We're a surf and skate brand, and this is our lifestyle. Of course, I had to throw it in there!
Surfing is seriously the epitome of all adventurous date ideas, at least in my option. For those who love surfing, a session reserved explicitly for the fins of your's and your partner's board (the groms can surf next time!) is the ideal way to do what you love in the company of who you love. It's adrenaline-packed; you share waves under the shining sun and end the evening with a cool bevvie on the sand.
There's always a special aura to life when bobbing up and down as you chat in the lineup, and it's absolutely worth experiencing this simultaneous connection to nature and your person.
And if you have never yet surfed before? Even better!
What could be more enticing than learning something new, considering that 'something' is one of the most spiritual, revitalizing activities on this planet? Have fun with the process and laugh as you learn. Book a surf lesson if you wish, or simply rent some boards and hit the sand. I just did a write-up on teaching kids how to surf, and so many of those principles remain the same for us adults. So hey, get out there and give it a shot on your next date!
The Daring Thrift Endeavour

This really is a date night for the adventurous, at least depending on how far you wish to embarrass each other. Simple, a riveting time, and guaranteed to make you laugh.
You each get a small budget and hit the local thrift stores for a bit of shopping. But here's the catch: you're creating the other's outfit for date night later that night.
Do you trust them to work out something cute and stylish? Or will they haunt you forever with their adult take on child-inspired dress-up? Oh, and what will you do to them?
Like I said, if you really want to embody the adventurous aspect of this killer date night, then go all out with no rules apply. Whatever they put together, you are 100% obligated to wear. It sounds silly, and that's because it is!
Allowing your inhibitions to let go while doing something totally out of the ordinary is so healthy for your relationship. You'll feel like the main characters together, forgetting to care what Bob and Jill are thinking at the table across from you, and that pure simplicity and child-like freedom is a beautiful thing.
I love adventure dates that perfectly intertwine a touch of physicality with an ironically mellow approach to enjoying the outdoors, connecting yourselves to the natural world as you spend priceless time together. Kayaking is one of those activities that never disappoints, fulfilling our craving for light adventure with a unique approach to alone time.
Opt for the ocean, a glide through thick mangroves, or a cruise down a city-side Intracoastal; the optional diversity presents numerous ways to approach your adventure date.
Pack yourselves a lunch, a handful of cold ones, and don't forget a quick stretch. Kaying will catch up with you… I swear!
SUP Yoga and Outdoor Brekky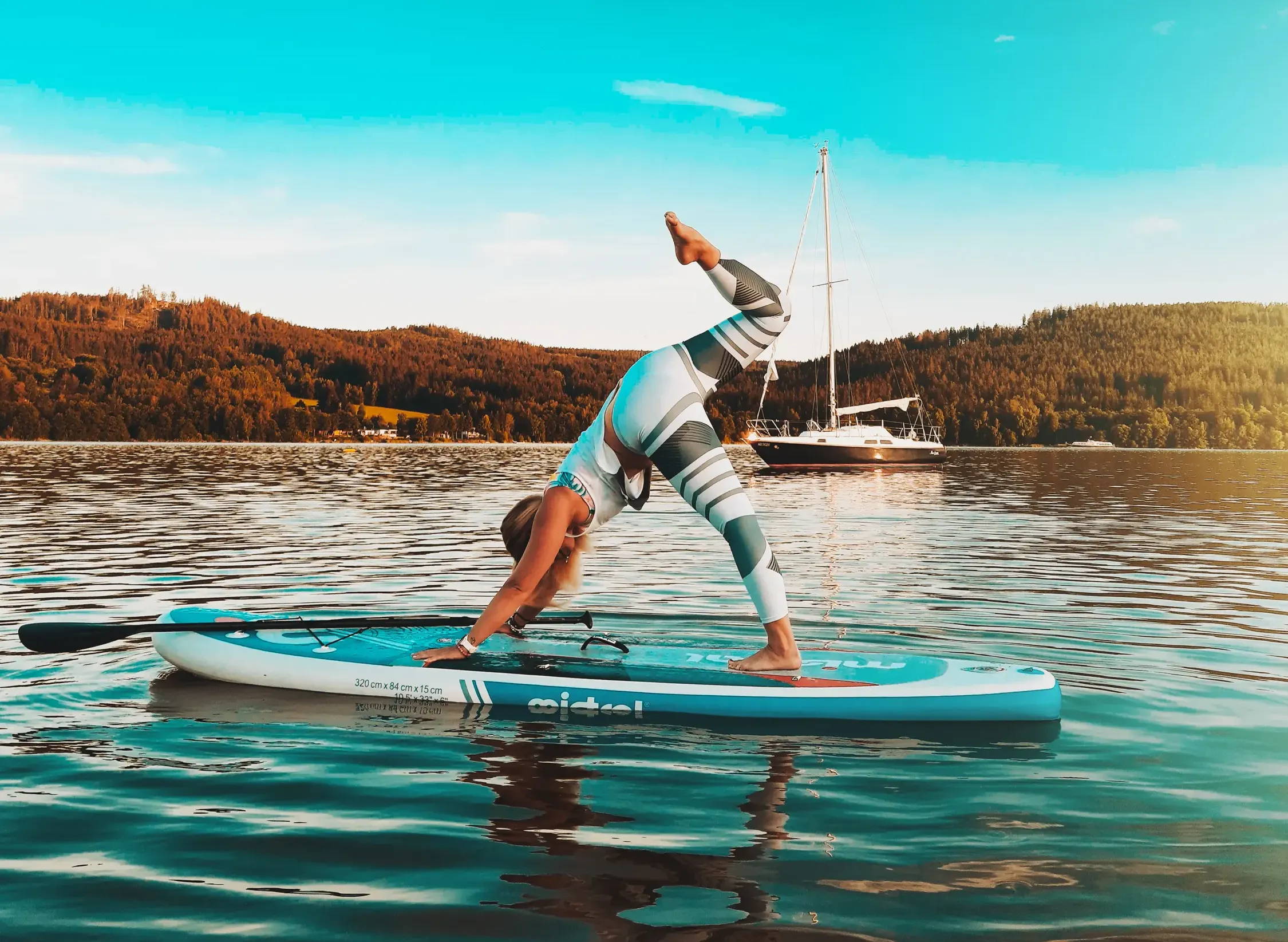 Once again, intertwining fitness and much-needed physical activity, I'm a huge fan of SUP yoga. It's a really cool way to change up both the standard approach to an indoor yoga class and your classic paddle on the water, combining two soulful activities with the company of (at least hopefully!) your favorite person.
Stand-up paddle board yoga is super simple to do. If you happen to own paddle boards, just hit the water and work through a simple yoga routine you learned the night before! Or, take it a step further by signing up for a SUP yoga class. Trust me; they're everywhere.
I actually wrote a post on everything to know about SUP yoga, so if this is one of the adventurous date ideas that catch your liking, check it out as I highly recommend it. As always, you'll need energy and rehydration after your water-based stretch sesh, so follow things up with some brekky and a green smoothie in the morning air.
The Blindfold Dinner Date

Think you can whip up dinner without your sense of sight, using only your partner's verbal direction to lead you along the way? If you have the house to yourself for the evening, this is a fantastic adventure date for the comforts of your home.
Choose a few recipes, including your appetizers, main course, dessert, and even drinks, and lay the ingredients out. Next, trade off cooking each portion of the meal while wearing your blindfold, using only the instruction of your partner's voice to help lead you along the way.
There's going to be one heck of a mess. You might screw up the veggies or burn the cake, but the memory left will be cooked into your brain in all the best of ways. By the way, you can use this same construct with your groms, as this is such an enticing healthy eating activity for kids to boost interest in the kitchen!
Don't Complicate. Just Do Something New!

To finish things off, I want to say that you don't need to complicate things when coming up with your own adventurous date ideas. In the end, try something new together, and you'll fulfill every aspect of adventure mixed with a romantic connection.
By trying something new, there's excitement in the process, and learning new hobbies and skills is what makes life fun, especially those we can enjoy with our loved ones. Create your experience by signing up for that class or finally buying the equipment you need, and use this as the perfect setup for your date night.
---
Hello to all my salty people! Thanks for readin' my blog and for the continuous support towards our brand. Make sure to sign up to our newsletter by creating your account to stay in the loop with new releases, sales & giveaways, and all our future blog post!
Live rad, stay salty.
- Ash, Dev & The Salty Shreds Fam.