Are You Recycling your Surfboards? If Not, Here's How.
Properly storing your surfboard and practicing the right care techniques will make your surfboard last a hell of a long time. But surfboards have a life span; like most anything else, they can be recycled/repurposed.
A broken surfboard, or a yellowing surfboard aged past its prime, might not see the waves again, but there are many impressive, artistic approaches to recycling surfboards. Whether you're looking for the next indoor activity for your kids or have a graveyard of shred sticks wasting away in the backyard, here are some fun recycled surfboard ideas to keep the stoke alive.
How to Recycle a Broken Surfboard

When I talk about recycling surfboards, I'm not being literal in the sense of placing them in the proper trash bin. Reusing and repurposing is the same as recycling, and you might not realize that a broken surfboard is only broken in the water. There's still plenty of life still left in that thing!
Also, everyone's situation is different. An old surfboard to someone else might be very much new to another person. Regardless, don't toss it in the trash or let it waste away. Instead, try recycling your surfboard in these ways:
1. Recycled Surfboard Art

Recycled surfboard art can look like many things, as art is hugely diverse. But more often than not, it looks like sanding the old or broken surfboard and painting right over it.
The art project is expressive, unique, and rather large-scale, making it ultra-exciting. It's not often you get to paint across a canvas as big or oddly shaped as a surfboard, and they make for some killer wall decor once completed.
For some, a surfboard is an ideal canvas for a horizontal sea-side landscape painting. Others might like to add 3D effects such as shells, sea glass, or beads. You could even try a different method of painting, like resin art, depending on what style of the finalized piece you want.
Either way, a hand-painted surfboard looks radical when it's hung up on the wall over the couch or above the grom's bed, and it's the best way to recycle your surfboard.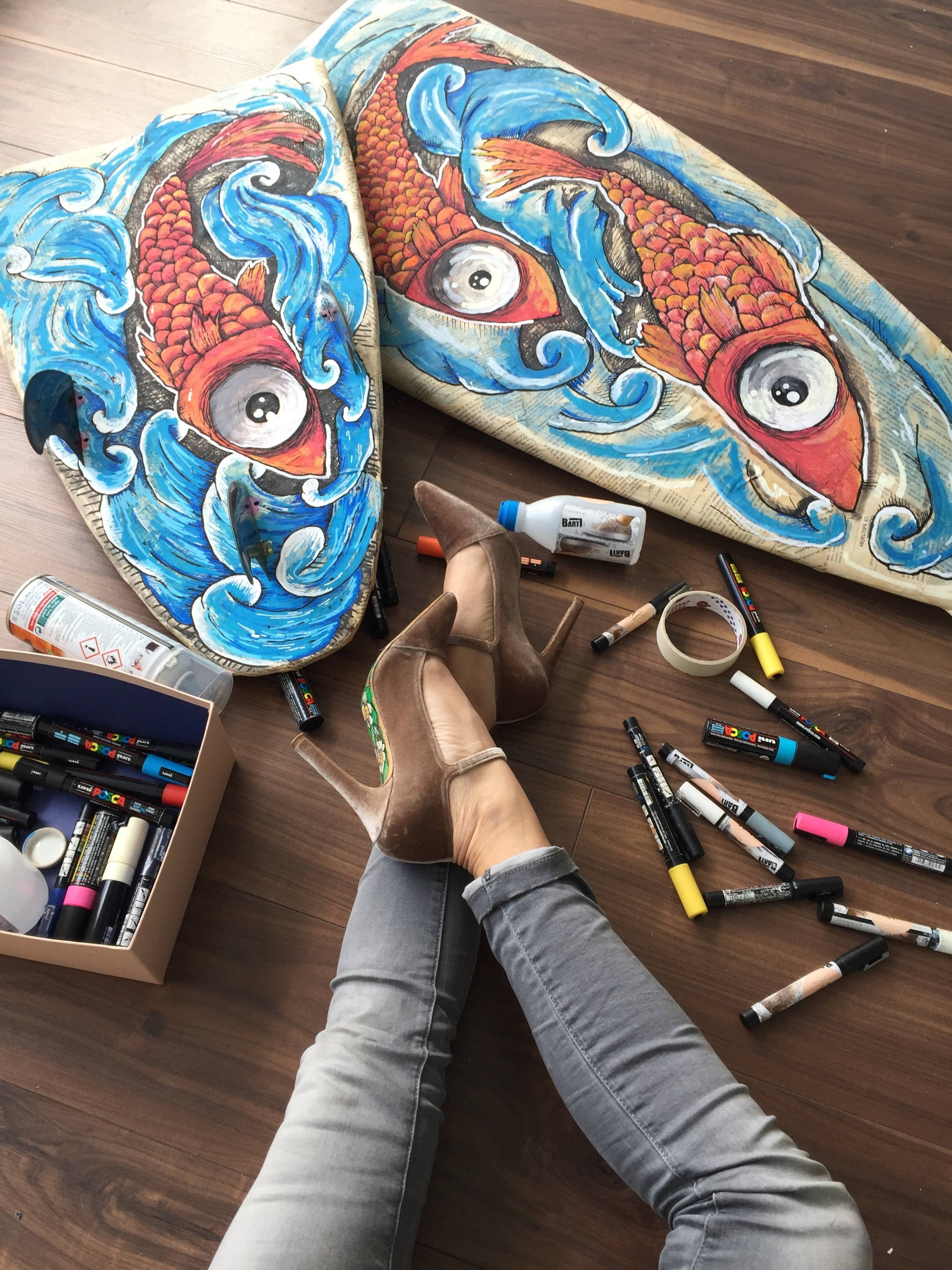 Broken Surfboards = The Perfect Canvas
I just did an article about business ideas for kids, and surfboard art is a highly profitable business idea relating to sustainability, as every surfboard you paint is recycled!
Making a few bucks while re-homing surfboards? What could be better? Just post on local community pages that you're looking for old surfboards to recycle, and I bet your inbox will be full!
Also, if you have a bunch of surfboards that you're looking to recycle, think about finding someone who does this kind of art as a living/side hustle and give them your old shred sticks for free.
Have an old surfboard or two? Why not make a surf-inspired bench with a recycled surfboard?
This project will take some tools and some skills, sure. But if you've got a knack for handy home projects, you can make your own surfy furniture for outside. And if you want to take it to the next level, paint the surfboards to your liking before framing them as a bench.
This method of recycling surfboards will set up for the perfect date night, too, if you're the kind of couple that likes to get their hands messy and dig into a project together. So grab the drills, the saws, and a bottle of wine, and get busy turning trash into treasure!
3. A Table Works Well, Too.

Similar to the above, a surfboard makes for the perfect tabletop. Surfboards are sturdy, easy to clean (thank you, epoxy!), and a statement to surf-inspired home decor.
Figure out how you can put four legs on an old shred-stick, and you've got the most rad coffee table in town, no coasters needed.
Once again, we have another perfect structure for a profitable business idea using recycled surfboards! Make some benches or tables, and list em' for sale. This unique furniture will sell if you've got an eye for it and talent with DIY projects.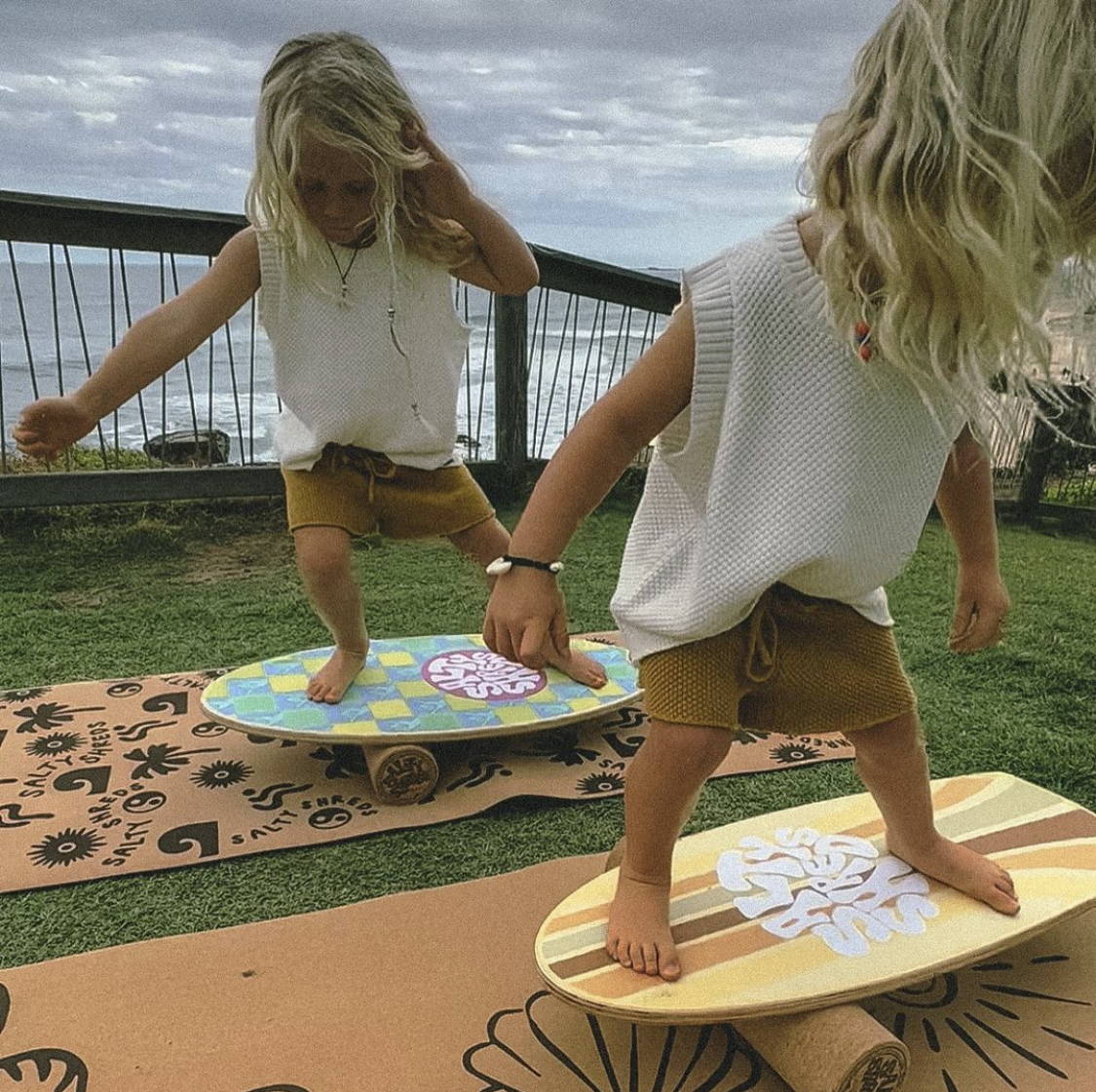 After starting out on recycled surfboards, we're beyond stoked to announce our very own line of balance boards!
Before we released our line of balance boards for surfing, our surf fam had to be creative in terms of flat spell past times. If you have an exercise roller and an old surfboard, you have the ideal set-up for a DIY balance board!
Balance boarding is one of the best ways to get better at surfing without surfing, and it's a good ass time in general.
This won't work for a broken surfboard, as you might assume, or a longboard, but it's a great way to recycle an old surfboard that still has some integrity.
Just place the board on top of a cylindrical object like an exercise roller, and you're ready to shred. The kids have a blast, as do I, and it's a fantastic workout.
That said, a genuine balance board will always perform better than the DIY version, so check ours out if you're interested in upping your balance skills. And visit our blog "What is a Balance Board?" to learn more about this killer subset of surfing and skateboarding.
5. Pass the Board Along to Someone New

Some of us retire surfboards earlier than others, and it's all about our skill levels and desired surfing style. A talented surfer might need to swap their board out earlier than someone who likes to simply ride the waves, and with that, the definition of 'old' changes.
If you've got a massive quiver of old boards piling up, one of the most rewarding ways to recycle the surfboard is to pass it along to someone new. To them, a board with a few dings or a yellow surface is brand-spankin', and the stoke cycle will continue.
Giving away surfboards is cool and all, but if you need a few extra bucks to put into a new stick or a surfboard for your kid, then you can always recycle that old surfboard of yours by selling it.
We get a few cents back for recycling bottles, right? So it's really the same deal!
Whether it is finding a new shedder or an artist who plans to recycle the surfboard further, you can find plenty of people looking to buy on Facebook groups, Craigslist, etc.
7. In the Restaurant Industry? Try Recycling a Surfboard into a Menu + Signage!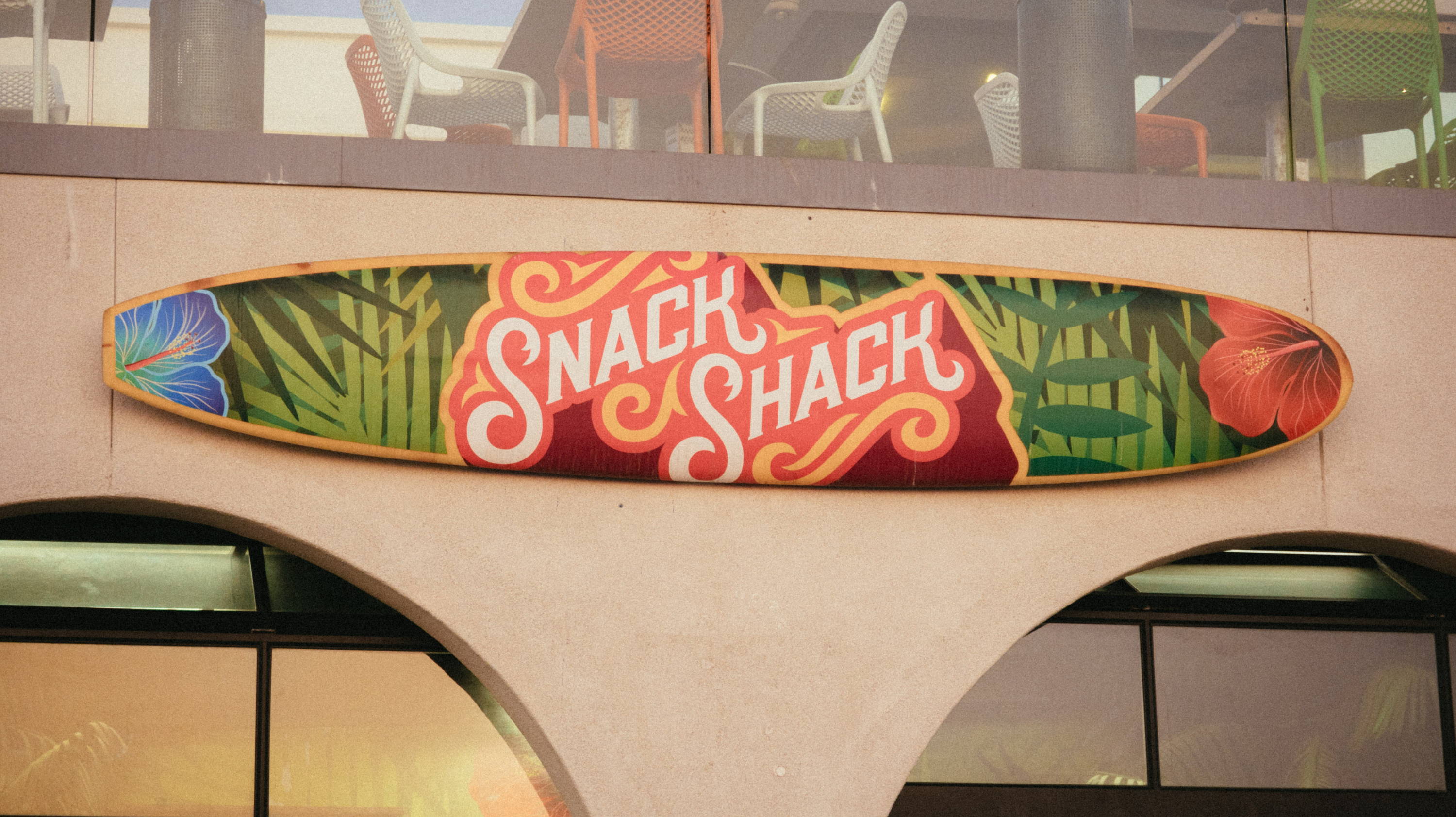 Nothing screams rad surf-shack like a mellow cafe with its menu painted on an old, battered, and worn surfboard.
Turning a surfboard into a physical menu is the answer if you're in the restaurant industry or do restaurant marketing and need more surf vibes to go along with Jack Johnson playing in the background. It's rad, different, and a subtle marketing tool that takes something old and turns it new again.
8. Make a New Board out of an Old One!

Have a broken surfboard with some life left in it? Even though it's split in two, the foam is still solid and rideable.
With broken and old surfboards, you can reshape them into an entirely new board. For example, a 10" ft log that breaks in two could be reshaped into two grom surfboards! You can take that worn surfboard and turn it into a wakesurf board for behind the boat, a skimboard, or any water-riding device the mind might conjure up.
Toss some trucks on that thing for a DIY surfskate?! LOL!
ReRIP.com is a fantastic company, and we love what they are doing.
Essentially, this is a surfboard recycling program with the goal of keeping boards out of landfills. They take all the old surfboards they are given, fix up all the dings, so they are rideable, and pass them out to charities or nonprofits.
If the boards aren't rideable, they connect with incredibly talented artists who will use the recycled surfboard as their canvas to create something beautiful. They've even used the old boards in concrete and other non-structural areas!
10. Recycle the Foam, Toss the Glass

There are plenty of ways to get rid of a board quickly but properly with a more traditional recycling approach. Just peel away the glass, toss that in the trash, and take the EPS foam block to an industrial recycling center.
Not as rad as the other options, but if you've got to get rid of a board, please do it the correct, sustainable way by taking it to a recycling center.
---
Hello to all my salty people! Thanks for readin' my blog and for the continuous support towards our brand. Make sure to sign up to our newsletter by creating your account to stay in the loop with new releases, sales & giveaways, and all our future blog post!
Live rad, stay salty.
- Ash, Dev & The Salty Shreds Fam.