Stay Salty: 10 Things to Bring to the Beach with your Groms
Groms need movement matched with constant mental and physical stimulation for a day on the beach that embodies good vibes, good times, and salty smiles.
Your grom simply won't understand the idea of laying out and catching some rays, and although a bit of tanning (and perhaps a nap on the sand?) sounds ever-enticing, perhaps we can meet in the middle for a beach day that satisfies mamas, dads, and kiddos alike.
Here are 10 things to bring to the beach with your groms, and if all goes as planned, they'll already be sleepin' hard from sand, sunshine, and giggles on the ride home.
Essential Things to Bring to the Beach

Knock off the essentials before starting with fun stuff. We're talkin' the snacks, the hydration, the sun protection.
The fun things to bring to the beach won't be fun if your grom is complaining of an empty belly or a sunburnt back, so check these off first for a hassle-free, complaint-free beach day.
Peace out to the nasty, harmful sprays and chemicals that litter big-box shelves. Seriously, most of your 'average' and cheap sunscreens are totally toxic, have been known to contain carcinogens, and are deadly to our beautiful oceans and reefs.
Because the toxicity in your skin from sunscreens takes time to build up in your blood, it's vital to begin using safe and environmentally friendly sunscreens from the get-go on your grom. Besides, these are the only sunscreens that actually work in terms of actual protection.
When choosing the best sunscreens for a day on the beach, ensure that it is labeled as 'reef safe' and is made with mineral active ingredients zinc oxide and titanium dioxide.
The best things to bring to the beach are often those that enter our bodies! Aka, food, and drink.
With sunshine and saltwater galore, it's hard work keeping yourself and your grom(s) hydrated throughout the day. And with the little ones, let's be honest; often, water just doesn't cut it! After all, they're kids, and sometimes they need a touch of flavor and sweetness to entice them to drink it down.
To ramp up your hydration game, a little creativity goes a long way. Pack up plenty of H2O, but also think to bring along:
With high amounts of natural electrolytes such as potassium, sodium, and magnesium and a super-tasty flavor, coconut water is the keystone to hydration during/after a day at the beach.
Purchase real coconuts with water still in them. Your groms will love sipping straight from the fruit, you can refill them with additional coconut water, and it's always fun watching them try to rip those suckers open to get to the tasty meat, doubling as a yummy beach day snack. How's that for multi-use things to bring to the beach?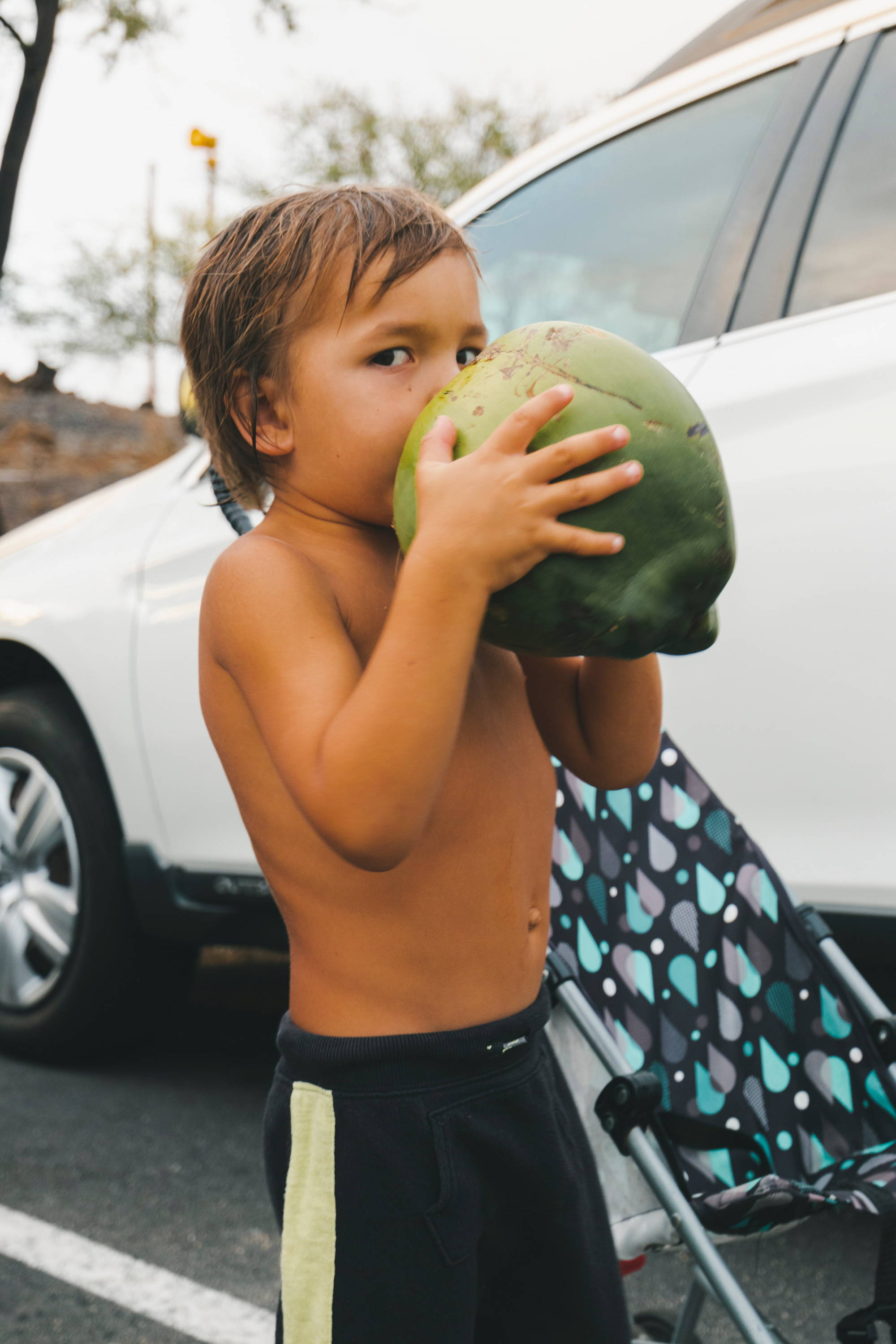 Healthy Fruit-flavored Sparkling Water

Burping competition?! Ha, but seriously, sparkling water has been shown to complement hydration, and groms enjoy the carbonation and enticing taste over plain water any day.
Sure, sugar is bad for hydration, but a little natural sugar in an organic fruit juice will entice your grom to keep sippin' and help keep them hydrated and energized throughout the day.
I didn't say 'sweet tea', did I? There's a big difference between a hydrating herbal tea versus a sugar-packed sweet tea. However, herbal teas, green teas, and black teas (do watch the caffeine in some of these) are shown to be as hydrating as water. Add some fruit peels or honey, let it sit in the fridge overnight, and you have yourself a pitcher of hydration ready for a day at the beach.
A beach day isn't complete without a big ol' tupperware of cold fruit. How many times do your groms say, "I'm not hungry!" or would prefer to snack on sand and seaweed in place of a yummy sandwich?
I always pack my groms a lunch and snacks before heading out to the seaside, but I've learned that fruit is the only thing that always gets taken down. And I'm cool with that, as fruit is one of the best ways to complement hydration, it's a healthy source of calories, and there's just enough sugar to keep them catching waves all day long while they unknowingly reap the health benefits of this tasty treat.
If you have a good cooler, try freezing your fruit (myself and my groms love frozen grapes) to keep it cold longer and act as a natural 'ice cream'!.
BYOS (Bring Your Own Shade)

Kids and babies can, and should, only expose themselves to limited amounts of sun exposure for prolonged periods. To extend and get the best out of your beach day and protect your precious kiddo's skin, and avoid post-sunburn complaints, your own form of shade is one of our must-have things to bring to the beach.
A simple beach umbrella or a more complex tent/sunshade, and even simple beach hats, the choice is up to you. There are a ton of suitable options out there, so find one you like that's easy to set up and produces a nice patch of shade, and you're looking pretty darn good.
The Raddest Beachwear in Town

If your family is planning for a day at the beach, you might as well look freaking fantastic doing so!
Compliment any beach day by shopping our collection of eco-friendly Salty Threads made for the rad and the reckless. With beach-inspired prints, fabrics made for the great outdoors, and beachwear that looks as good as it feels, you'll be snappin' pics left and right of your smiling' groms in the cutest beach clothes for kids on the planet!
With matching adult and unisex children's swimwear made for long days in the salt and sand and linen beach clothing to keep you cool, no more will annoying rashes, the heat, and the mundane be synonymous with your beach day. Instead, enjoy the flair, excitement, and the simple joys of rad beach clothing to forever keep the stoke alive.
Fun Things to Bring to the Beach

How do you keep a grom occupied for hours on end when at the beach? We're stoked you asked. Here are our favorite things to bring to the beach for endless salty euphoria.
Interested in teaching your kid how to surf? Yeww, we love it! Bringing a surfboard along during your beach day endeavors is the best way to entertain and will have your kiddo asking, "when are we going back?!".
We suggest starting with a simple soft-top surfboard. These boards are made of a specialized type of foam that's soft and isn't intimidating (most groms are initially scared of their surfboard bonking them in the noggin'), and they float extremely well.
This float/buoyancy (known as surfboard volume) is the key to pushing your grom into small waves that they can easily catch with stability, and you can always paddle your foamie out for a few ankle biters yourself!
Check out Bryxton absolutely shredding this soft top to pieces- she might make it look easy, but we're all capable of surfing, regardless of age of experience!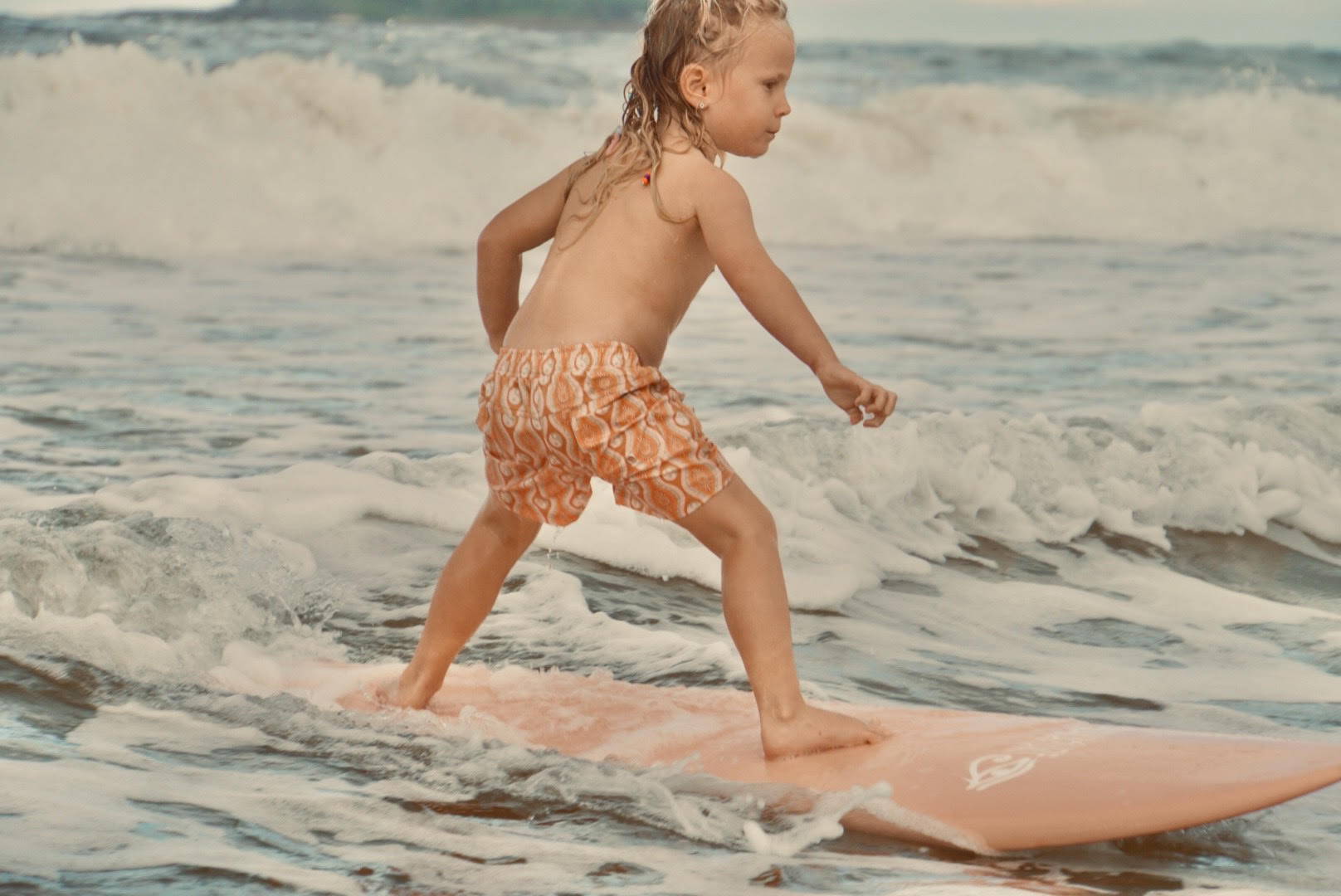 Who Doesn't Love a Skimboard?

Skimboards are like the sibling to surfboards. It doesn't matter what the wave conditions are like or your grom's skill level; they are guaranteed to have a wildly good time throwing their skimboard onto the shore.
Skimboards help with balance and building on similar surfing skill sets, and anyone can do it. Plus, all that running around will have your grom totally KO'd!
A Beach Adventure Notepad

Inspire creativity and enhance ocean knowledge with a beach adventure notepad. Have your kiddo write about what they see and learn during their day at the beach. Perhaps they can draw images of different types of shells or sea life, or they can write down their own surf report regarding the wave conditions.
Teaching a child to reflect through journaling is an endlessly positive activity that they will take with them into the rest of their lives, and it's a wonderful way to learn about the science/ecosystems of our beaches, making a journal one of the best things to bring to the beach on any occasion.
A day at the beach doesn't just mean spent on the actual sand. With most beaches featuring long, winding sidewalks along oceanside restaurants and piers, there's a whole world to explore! And what better way to do so than on a skateboard?
Take a cruise with your little ones as they hone in on their balance and board skills. If you're lucky, maybe there's even a beachside skatepark?!
Salty Shreds has curated the most attractive, top-of-the-line collection of kid's skateboards (they're also perfect for adults!). Opt for a standard skateboard shape if your kids like to ride on ramps or pop ollies, and if you want a more surf-like, cruising feel, check out our insanely rad 70's retro surf skate!
Use a day at the beach as a way to instill a vivid and keen imagination with your kiddos, as in the end, that's really all you need for a good time on the oceanside! Of all the things to bring to the beach, this is the most versatile and creative; and, therefore, the most important!
Is your grom a mermaid seeking rescue? Will you have sword fights as you fend off sea monsters and invading pirates? Is your grom the next world title surfer? Is there a sandcastle that needs immediate repair before the tide rises high?
In a world where imagination generally goes second to our screens, being able to curate an imaginative experience through creative fun is a lost art. But what's lost can always be found, and to find it, all that's needed is a day with your toes in the sand spent with those you love the most.
---
Hello to all my salty people! Thanks for readin' my blog and for the continuous support towards our brand. Make sure to sign up to our newsletter by creating your account to stay in the loop with new releases, sales & giveaways, and all our future blog post!
Live rad, stay salty.
- Ash, Dev & The Salty Shreds Fam.