What's SUP with SUP Yoga?
You're telling me I can stand up paddle board AND knock out some breathwork/yoga?! Sign me up.
The culmination of natural body movement, SUP yoga connects you to the natural world and your internal self. Fresh air, sunshine, and the alluring sounds of nature will join you as you build flexibility, strength, and mindfulness.
The best part? You don't need to be an expert at paddle boarding or yoga to try paddle board yoga! Anyone can give it a go, including your surf kids, so here's the rundown:
"SUP" is the acronym for 'stand up paddleboard(ing)'.
Therefore, SUP yoga is pursuing standard yoga practice while on a paddle board. To keep it real simple, it's doing yoga on a paddle board while on the water!
Choose a sunny spot on a lake or a calm cove, and work through a yoga flow while balancing on the deck of your big, floaty board.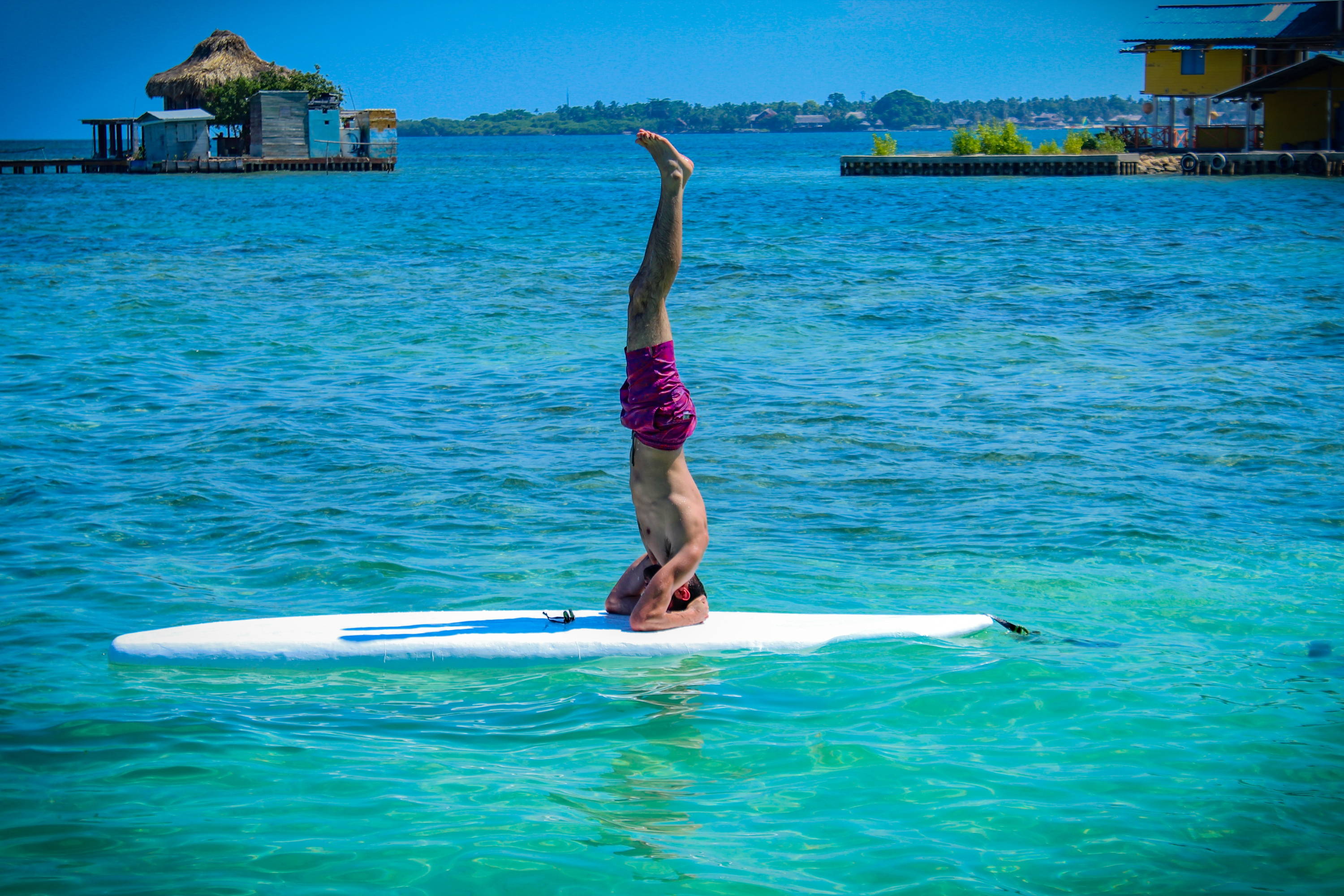 Why Choose Paddle Board Yoga?

On their own, paddle boarding and yoga are incredible activities with multitudes of health benefits.
The Benefits of Paddle Boarding

Amazon low-impact workout for tone muscle

Fantastic cardiovascular exercise to boost stamina and improve breath.

Enhances balance and core strength

An outdoor, water-based activity providing fresh air and sunshine for your daily dose of vitamin D (don't forget your sunscreen!)

It contributes to a higher range of joint flexibility (paddleboarding is essentially a

calisthenics workout

)

Total stress killer

It's a radically enjoyable activity suitable for everyone in your family
Improves flexibility & strength

Promotes mindfulness & self-awareness while lowering stress & anxiety

Powerful breath training & cardiovascular exercise, amazing for your heart

Yoga connects you to

prana

, the life force energy

Enlightening for the soul, healing for the mind and body

Yoga improves every aspect of your surfing!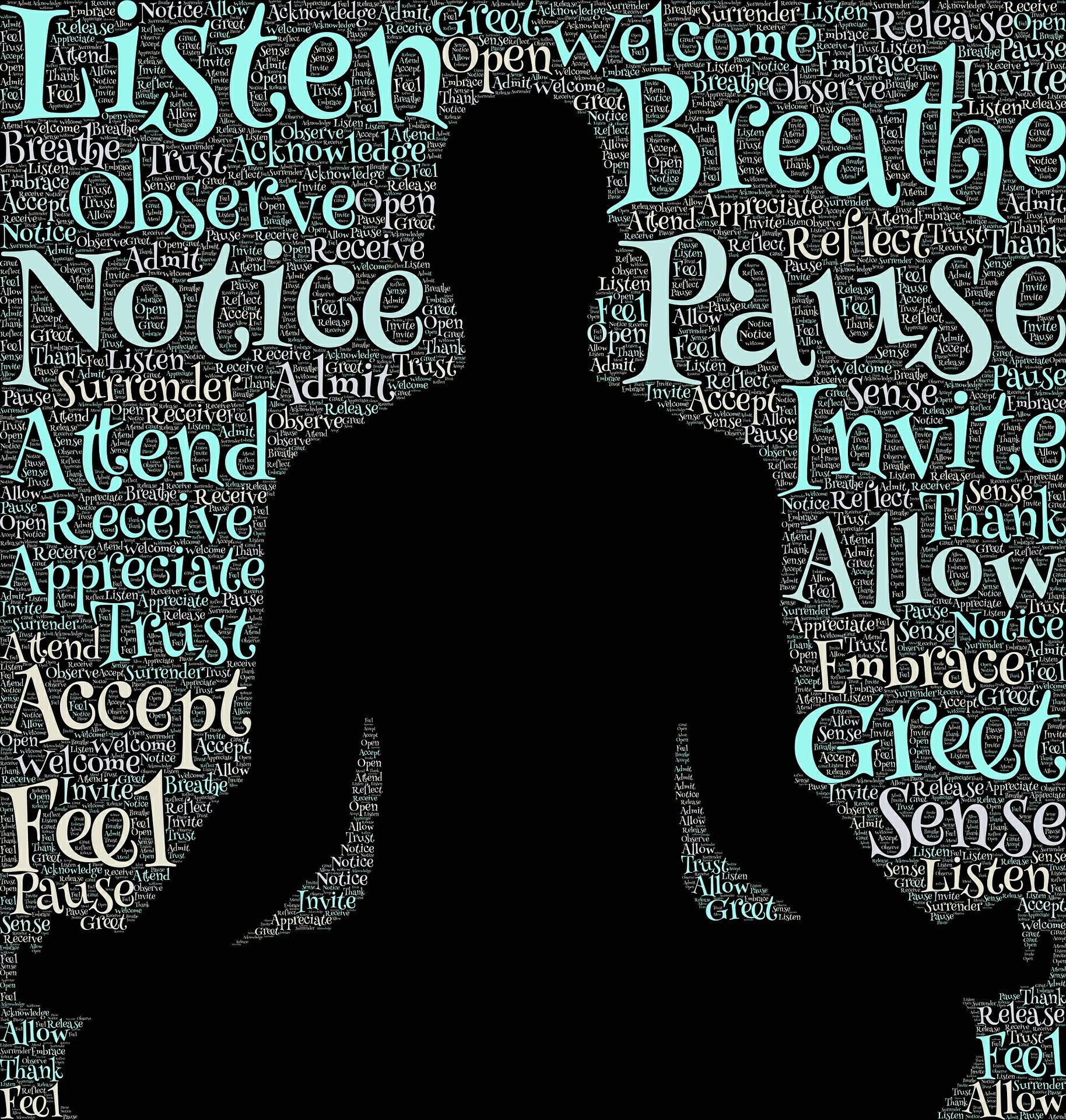 By combining the practice of yoga and standup paddleboarding, you not only reap the individual benefits, but these benefits inherently become more potent. Essentially, yoga will enhance your paddle board session, and paddle boarding will enhance your yoga!
The movement of the water, the slight instability and rocking of the board, and a gentle breeze will all contribute to a need for intense focus & balance as you move through your flows.
Every transition into a new pose will force you to stabilize the board in conjunction with your body, the increased difficulty lending an even better workout and enhanced technique.
Each breath will send clean, fresh air into the lungs, nature's song will lead you through your flow, and the sunshine will warm your skin. Yoga outside on the water is an uplifting experience, positivity derived from the present to promote an enlightened future.
How to Practice Stand Up Paddle Board Yoga

Want to give it a go? I said it before; you need no experience in paddle boarding or yoga to make it happen. Just keep it simple.
With this, there are three approaches to trying paddleboard yoga depending on the situation:
Rent a Paddle Board
Purchase a Paddle Board
Participate in a SUP yoga class
So, which is best for you?
1. Renting a paddle board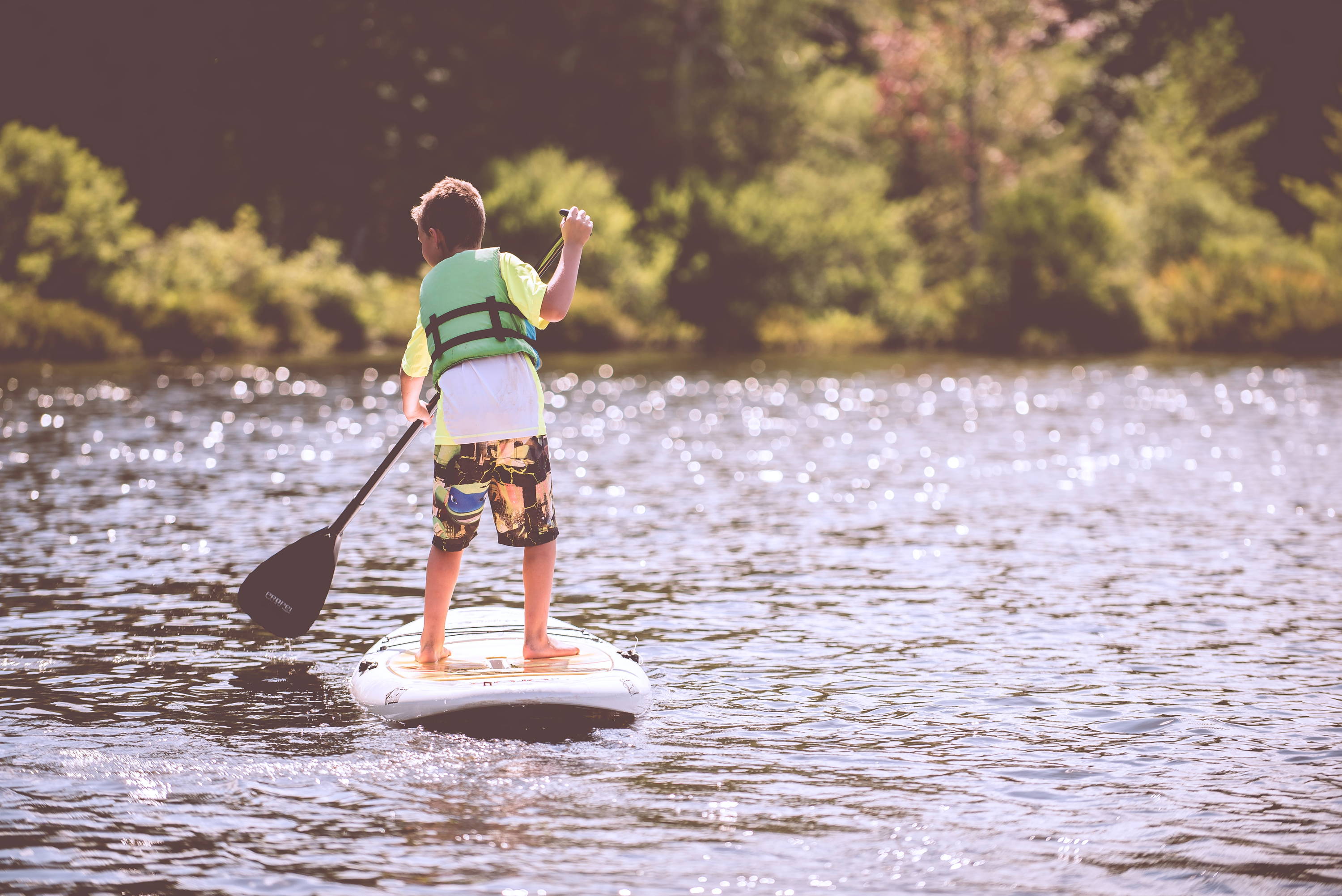 I highly suggest renting/borrowing a paddle board to give yourself a preliminary feel for paddle boarding and then SUP yoga.
Find a local paddle board rental, and spend a day on the water! If you've never paddle boarded before, take this time to focus on your balance and board control.
Once comfortable and in a peaceful, calm area, attach your paddle to the board (there's typically a slot to hold the paddle) and perform some basic yoga poses, depending on your experience.
And when I say basic, this can even look like some simple stretching! You don't need to be a yogi to practice SUP yoga. Touch your toes and go from there!
If you enjoy paddle boarding and how the yoga/stretching made your mental and physical self feel, you now know this is something worth pursuing to a greater extent.
To improve the experience, you'll then have to think about purchasing a paddle board of your own and also work towards gaining more experience with yoga. Continue self-training at home, or perhaps join a yoga class to really engage yourself in practice.
Then, take your newfound knowledge with you onto the water!
2. Purchase a Paddle Board

If yoga has long been a part of your lifestyle, and you maintain ample experience in the practice, SUP yoga is one of the best ways to curate a new, unique approach to your flow.
All you'll need is the board! Again, I suggest renting first to give it a go, but chances are you'll be great and love it. Once that's confirmed, look into the best SUPs for yoga.
Now, you have the freedom to explore these endless, water-based yoga environments with any consistency you so desire; every day, once a week, who cares!
SUP yoga becomes something you can customize to every personal liking and an integrated, exciting part of your health routine.
This one covers it all before investing in your own paddleboard and yoga practice. For the experienced yogi, the paddle board pro, or the total newbie, everyone (including the kids!) can benefit from these lessons.
Plus, you can sign up to them consistently, not having to deal with buying, storing, and transporting a paddle board while also benefiting from a yogi's instruction to improve your technique.
This typically looks like a one-hour session, including the paddle board rental, of guidance to a nice spot and through a simple yoga flow. Your instructor will help you with body posture and navigating the intricacies of maintaining board balance in various poses. Because SUP yoga is far from easy, this is a massive help.
Equipment Needed for SUP Yoga

You don't need a lot, but the essentials are definitely essentials!
We just covered this! Any paddle board will do, but note that some are made specifically for yoga, with a soft, yoga-mat-like surface and a handle to secure your paddle away from your space.
A small dry bag attached to your board is necessary to hold the other equipment and keep it dry. Make sure it is tightly secured!
Paddleboarding and yoga in the sun with the occasional dip in the water is a recipe for dehydration. Make sure to hydrate yourself plentily before your session, and keep a water bottle on you to maintain these ample hydration levels.
Keep a rolled-up towel in the dry bag handy during your adventure. You'll need it to dry off the paddle board's surface and also yourself if you jump in on a warm day.
This is a must. Aside from standard, natural sunscreen and ensuring consistency in application, you might also think to practice forms of physical sunscreen, like wearing a large-brimmed sun hat, a rash guard, and rockin' some sunnies.
What to Wear to SUP Yoga?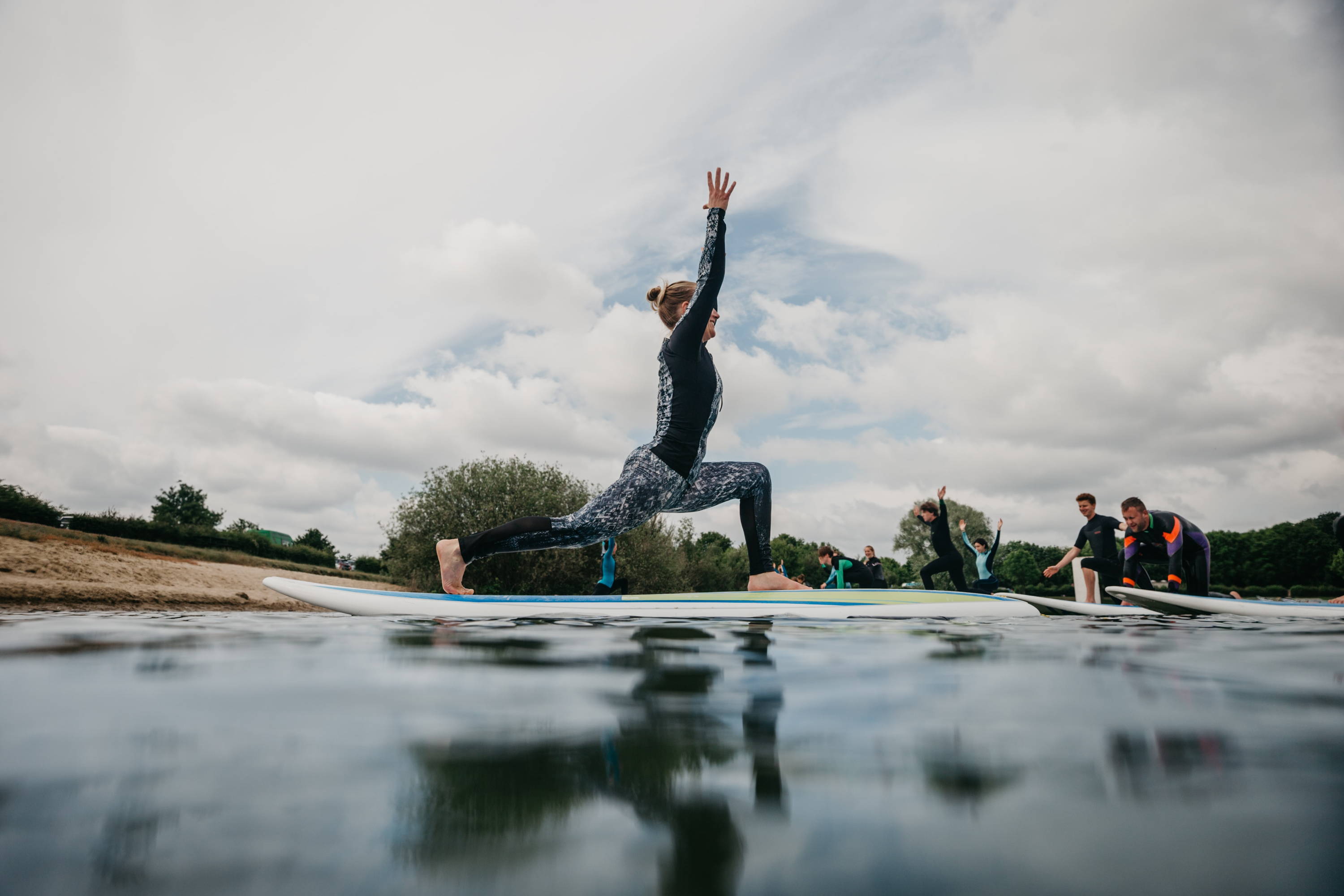 This one is a bit intricate, as it will depend on your location, the season, and the weather!
For the hot climates, there's really no need to wear much other than a bathing suit! Of course, downward dog in a bikini might be a bit revealing, so a pair of boardshorts over will cover that part (literally). And once you're sweating, rip 'em off and jump in.
I suggest complimenting this with a rash guard for sun protection, but overall, SUP yoga clothing isn't complicated when it's warm.
A bit of a breeze and slightly cooler weather? Legging shorts for the dudettes and boardshorts for the dudes with a light jacket/windbreaker will do just fine! Expect to warm up quickly from the paddling and yoga.
Any colder, and you'll want full-on activewear attire. Remember, clothes are okay because you don't have to get wet (the paddle board will sit well above the water) unless you want to. Or, worst case, accidentally fall in! I still suggest water resitant clothing for this purpose.
Linen clothes are also excellent choices as this fabric is highly resistant to moisture and extremely breathable/flexible, allowing fresh air to flow to maintain a comfortable body temp without restricting movement.
And if you're a true cold weather warrior, you might just have to stretch in a wetsuit...
Interested in stand up paddle board yoga? Then get out there!
My whole point here is to have fun enjoying this incredible, health-boosting, and grounding activity without taking it too seriously.
Yes, you can become as proficient in yoga and paddle boarding as you wish, and that's part of the fun, but don't allow inexperience or intimidation to hold you back from trying something new!
Paddle around, work on some stretching, and begin to integrate yoga flow into these sessions. Trust me; you'll be floating in bliss after.
---
Hello to all my salty people! Thanks for readin' my blog and for the continuous support towards our brand. Make sure to sign up to our newsletter by creating your account to stay in the loop with new releases, sales & giveaways, and all our future blog post!
Live rad, stay salty.
- Ash, Dev & The Salty Shreds Fam.