Surf Kids Lesson 1: Introduction to Teaching Kids How to Surf
The world is immensely beautiful, and teaching kids to surf will open their minds, eyes, and little souls to all the magic waiting to be discovered. Surf kids grow up to be strong in their physical and mental bodies, pursuing a lifestyle that enhances positivity throughout every imaginable facet of their life, and for that, I love surfing.
If teaching your grom how to surf is something you've always wanted to pursue, this general introduction will help answer many common questions; a guide to some of the surfing basics before we move forward into the journey of riding their first waves.
Welcome to lesson 1 of the Salty Shreds Surf Kids Series!
Anyone Can Teach Their Kid How to Surf!

If you're a surfer yourself, then you've probably had the plan to stick your bub's feet to the wax as soon as they can wobble their legs on the sand. But it's important to know that absolutely anyone can teach their kid how to surf, and even if you have never felt a board in your own hands, the journey is really all the same!
I mean, how rad is it that we, as parents, can also learn an entirely new ocean activity with our kids, a shared experience of adventure and growth creating the most precious of memories together. Also, not to jump ahead, but don't you want them calling you to book a surf trip to Indo when they grow up?!
Surfing is Becoming Worldwide

Check out the Surf Lakes Wavepool in Action!
Teaching kids to surf isn't just limited to the coast these days.
With incredible innovation, wave pools are now popping up all over Australia and the rest of the world, broadening the scope of who can embody surfing as a passion and lifestyle. They're not everywhere yet, but it's a great start, and time will continue to expand wave-riding accessibility to families far from any oceans.
If you're landlocked but still want to raise free-spirited surf kids, two possible wave-pool options include:
URBNSURF- Melbourne, Australia

: An absolute joy of a time, this surf park is suitable for surfers of all skill levels, with available lessons and hours of urban surf fun.

Surf Lakes- Yeppoon, QLD, Australia

: A wild take on a man-made wave, this amazing wave pool can produce five various wave heights, perfect for beginner surf kids and an absolute dream for advanced surfers. It's currently not open to the public, but it will be soon, so get ready to count the days down.
With surfing now in college sports, the Olympics, and with an ever-growing industry, there's even career potential within this lifestyle, whether as an athlete, a wave-pool engineer, or a surf brand sales rep. More important, though, surfing simply raises world-aware humans with a connection to nature.
Surfers are fit and healthy, doing everything they can to maintain this lifestyle for the long term, and they spend more time outside than they do on screens or indoors. Your grom will learn dedication, resilience, passion, and even disappointment.
These emotions and physical growth will result in well-rounded, grounded individuals. That's enough reason for me.
How Long Does it Take to Learn How to Surf?

My favorite thing about surfing is that it's a never-ending journey. We never stop learning, and we can never stop becoming better surfers.
There's a lot to be said about applying this ideology to every other aspect of our lives. I guess what I am saying is that it's good not to put a timeframe on surfing. Instead, enjoy every moment spent in the water regardless of how long it takes yourself and/or your surf kids to become comfortable surfers.
Teaching kids to surf will have varying timeframes for everyone, but it'll typically only take a handful of sessions to get the basics down, i.e., popping up and riding a wave.
A year of consistency, and chances are your grom will be super comfortable in the water. This looks like safely navigating the ocean/line-up, paddling into and riding their own waves, and laying the foundations of beginner surf maneuvers.
What Age Can Kids Learn How to Surf?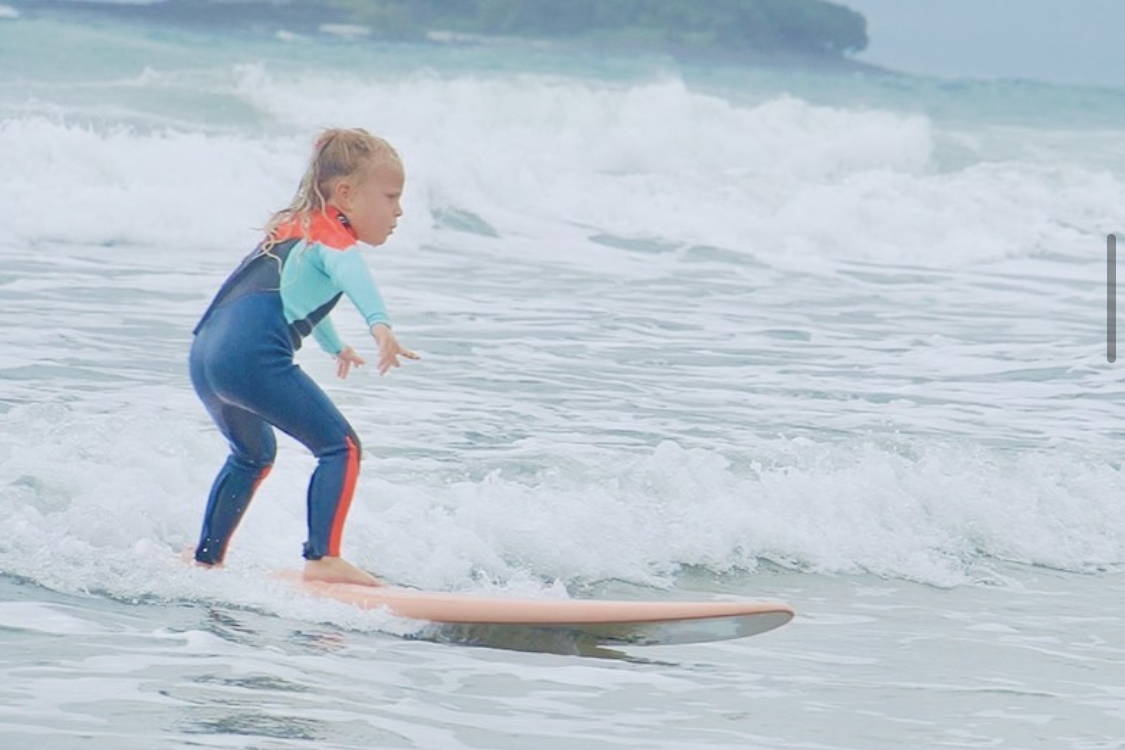 Kids can start surfing at a seriously young age, and they can do so really well. Look how comfortable Bryxton is at just four years old (she started surfing even younger), or check out this rad little story of this Brazilian grommet who learned how to surf at just two years old!
You really just have to expand your definition of what' learning how to surf' really is. Here's what I mean:
It is never too early to start your bub's surfing journey, even if it doesn't involve any surfing.
Teaching your kid how to swim, go underwater, sit on a surfboard, and other basic-water skills is the best way to jumpstart their surfing. The more comfortable they feel in the water, the sooner they'll be deemed ready to surf, and the safer this process will be.
At this stage, consider pushing them around on a board and micro ripples as learning how to surf, propping them up on their feet as you zoom them around. No waves are needed!
Yes, your surf kid can hit the water even before they're five. However, this:
Is typically easier when you know how to surf

: You can be in the water with them, you understand safe ocean conditions, and you can even practice tandem surfing!

Involves pushing your grom into waves

: Your kiddo will require a little help pushing them into waves until they become strong and able enough to paddle themselves.

Requires reasonable conditions

: Seriously, with the right buoyant board and your help, a surf kid can easily catch a safe, small wave under .5m. You don't need much in terms of wave height/power when it comes to teaching kids to surf, so don't go thinking they'll be riding Mavericks.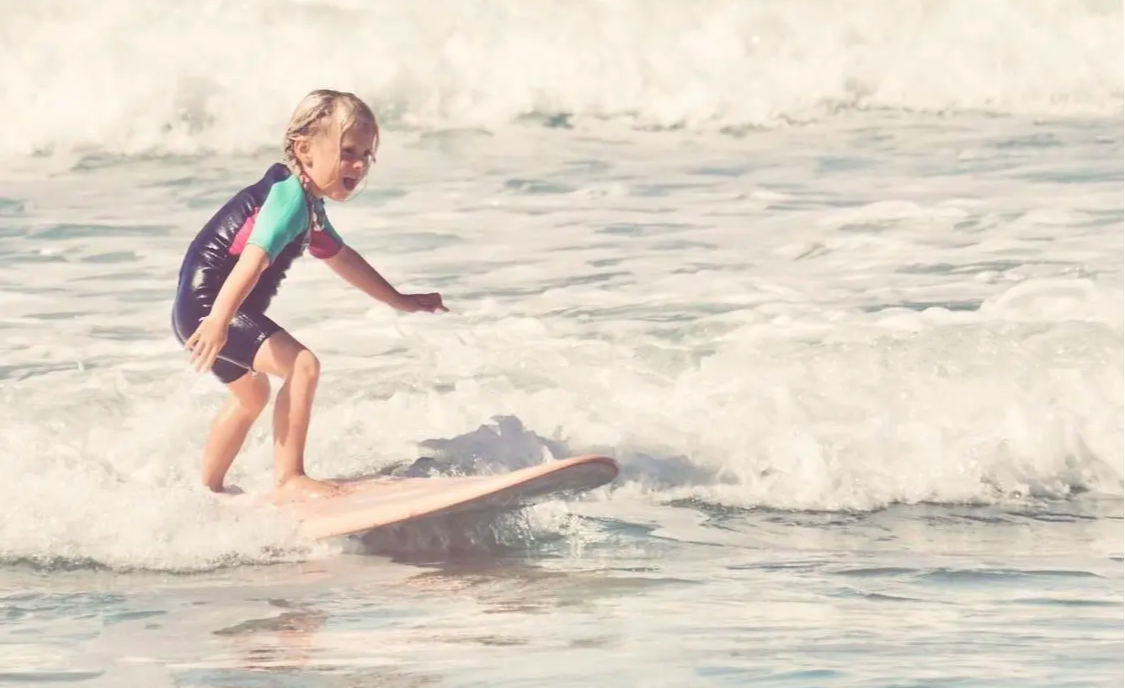 See what I mean by small waves?
As they age, surfing becomes something they can do more and more on their own. This is when learning how to surf really kicks into gear, as they'll begin working towards paddling and popping up on waves themselves, riding down the face of the wave, and really starting to understand surfing as a sport, lifestyle, and passion.
Does My Kid Need Surf Lessons?

Surf lessons are definitely a great way to speed up the learning process, but they aren't necessary. Tons, if not most surfers, are self-taught, and surf lessons for kids aren't the cheapest, so don't worry if these aren't an option.
With dedication and time, both you and your kid can learn surfing, lessons or not.
Surf lessons simply provide a clear path in doing so, they give you hands-on learning from the pros, and they do make things a bit easier; but again, they aren't necessary!
10 Intro. Tips on Teaching Kids to Surf:

To approach surfing and teaching kids to surf safely and effectively, let's hit on a few essentials.
Make sure your kiddo is comfortable in the water. This typically includes being a solid swimmer who can hold their breath underwater while practicing communication.
2. Consider the Conditions

I said this a bit before, but let's hit it again- all you need is minuscule surf and small waves to teach your kid surfing. I'm talking on the verge of flat, even. Always start small, be mindful of the conditions, and surf near lifeguards. Heed any warnings and signs with caution!
Start in rather shallow, sand bottom conditions where you can easily stand. This will allow you ease in pushing them into waves and helping them back out into the line-up.
Talk to your kid about surfing, show them videos, and have them watch local surfers ripping in the line-up during your beach day. The more interested they are, the more this passion translates into fearless doing.
Teach your kid about the ocean and ocean safety. Go over what to do during various situations, such as rip currents, teach them the science of waves and how to apply this to surfing, and talk about surfing's incredible history. Surfing is more than just physical, as there's so much learning and life lessons to be derived from such a connecting practice. Surf kids are well-rounded, knowledgeable beings with a huge understanding of the Earth and these soulful principles.
5. Skateboarding and other Balance Activities Help

Your grom can also learn how to skateboard at a young age to further enhance their surfing. Check out our sick line of grom skateboards ready for their small feet to shred.
Boardsports require a special type of sideways standing balance, so any activity that increases this awareness (such as walking barefoot) will make them a better surfer.
Just look at us! We're constantly familiarizing baby Ocean with these types of balances and what it feels like to stand/ride a board.
It's incredible for their development, regardless if they decide to continue down the surf & skate lifestyle.
Your grom can surf in a life jacket or floaties if needed. You can always incorporate these safety devices into the introductory stages of surfing.
7. Use a Soft Top Surfboard

We'll get more into choosing your kid's first surfboard in a later article, but to summarize, start them on floaty foam surfboards. Foamies aren't intimidating, safe, affordable, and they can catch the tiniest of ankle biters!
Kids are more sensitive to the sun than we are, and we should all be applying sunscreen more than we probably do. Like, a lot more. I just spoke of the importance of sunscreen for babies and kids, so give it a read. If you're in the market for a natural, reef, and body-safe sunscreen free of nasty chemicals for your next surf lesson, we got you covered (literally) with our Surf Baby Natural.
9. Utilize Available Resources

Teaching kids to surf on your own? There are so many video resources and other informational sources to help you along the way. Watch videos and absorb this information to become a better teacher for your grom! The more you learn, the more you can share with your kiddo and the more expansive their own knowledge and skills become.
10. Consistency Is Critical

Try to get out there as much as you can. Kids are especially responsive to muscle memory, so the more waves they catch, the more this becomes an integral part of who you are. It sounds cliche, but it's just like riding a bike.
This article provided a broad overview of raising surf kids with a love and passion for the water. So what's next?
Stick around, as next, we will begin digging into more step-by-steps and how-to's for surfing.
Make sure you're styled out with our killer line of surf clothes and sign up for an email list for lessons two and beyond, as up next, we're going to teach you and your grom how to read a surf report. Then, it's time to choose a kid's surfboard and teach them the pop-up!
Good things to come, and we're stoked to see you there.
---
Hello to all my salty people! Thanks for readin' my blog and for the continuous support towards our brand. Make sure to sign up to our newsletter by creating your account to stay in the loop with new releases, sales & giveaways, and all our future blog post!
Live rad, stay salty.
- Ash, Dev & The Salty Shreds Fam.